Box-office tracking on "Iron Man 3' is now on target for a whopping $160 million debut in the U.S. May 3 when it kicks off the summer movie season for Disney.
That the Marvel superhero movie would be a blockbuster and the year's biggest opener to date has been a given for months, but analysts' expectations for its domestic debut have spiked ahead of this week's international rollout. "Iron Man 3" opens in Australia, France, Italy and eight other countries on Wednesday and in roughly 25 more foreign markets over the weekend. It will debut in China on the same day it does in the U.S., Disney said Wednesday.
If it does hit the $160 million mark "Iron Man 3" will easily top another Disney film, "Oz the Great and Powerful," as 2013's biggest opener, and would be the best since "Dark Knight Rises" debuted to that same amount last July.
The first two "Iron Man" films brought in a combined $1.2 billion at the worldwide box office and this one is expected to be the biggest yet. "Iron Man 2" debuted to $128 million in the U.S. in 2010, and that was before "The Avengers" – in which Robert Downey Jr.'s Tony Stark character played a key role — shattered box office records with a $207 million first weekend to jump-start last summer.
Also read: 'Iron Man 3' Is Most-Anticipated Movie of the Summer, Fandango Says
"The success of 'The Avengers' built on a brand that was already very successful," BoxOffice.com's Editor-in-Chief Phil Contrino told TheWrap. He thinks that connection could drive the first weekend total even higher than the projections.
"This has been a slow start to the year in terms of moviegoing, and I think there's a lot of pent-up demand," he said. "I see no reason why 'The Avengers' crowd won't turn out for this, and if that happens, the sky's the limit."
Ticket pre-sales can't be accurately gauged on "Iron Man 3" because the three top cinema chains — AMC, Regal and Cinemark — have suspended sales while Disney seeks to negotiate a more favorable agreement on the ticket-sales revenue split.
Also read: Marvel to Release Different Version of 'Iron Man 3' in China
A 50-50 split is typical on most films but studios almost always get a higher percentage on blockbusters. The two sides are still talking, and the lack of presales isn't likely to cut into its box office unless it extends to Thursday or Friday of next week.
The international openings for "Iron Man 3" should provide momentum ahead of its U.S. debut.
The original movie made $585 million, $318 of that domestically and $268 million overseas. The sequel brought in $623 million globally, $312 million from North America, $311 million from abroad. It's highly unlikely domestic grosses will outstrip foreign this time around, given the exponential growth in the number of overseas screens, especially Imax and 3D, which bring premium pricing.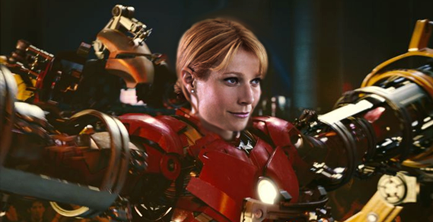 Disney is clearly focused on maximizing foreign returns, particularly in China, which has emerged as a major market since the last "Iron Man" movie. Marvel Studios collaborated with Beijing-based DMG Entertainment in the making of "Iron Man 3," and Disney will release a special version tailored to Chinese audiences there.
In addition to Downey Jr., the film stars Gwyneth Paltrow, Don Cheadle, Guy Pearce, Rebecca Hall, Stephanie Szostak, James Badge Dale with Jon Favreau and Ben Kingsley, Veteran Shane Black ("Lethal Weapon") directs from a screenplay he co-wrote with Drew Pearce. Favreau, who directed the first two films, is an executive producer, along with Marvel Studios president Kevin Feige.