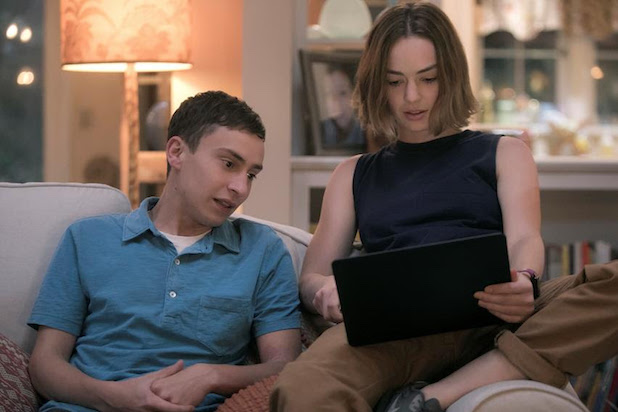 Netflix's latest show is about a teenage boy venturing into the world of dating for the first time–but his story's not as typical as it sounds.
"Atypical" is a dramedy about Sam (Keir Gilchrist), an 18-year-old with Autism Spectrum Disorder (ASD) who is navigating the world of girls and dating. As Sam is dealing with new "practice" girlfriend Paige (Jenna Boyd), his family is dealing with problems of their own.
Trying to overcome her helicopter-parent habits, mom Elsa (Jennifer Jason Leigh), enters into an affair with a younger bartender. Dad Doug (Michael Rapaport) is surprised when Sam turns to him for girl advice, as they haven't had the best relationship in the past. And little sister Casey (Brigette Lundy-Payne), a track star, gets scouted by a prep high school and has to deal with the fact that she won't always be there for her brother.
It's a show about autism, but more so it's a show about being a teenager dealing with family and romance. "It was really important to me that Sam feel like a real person and [not be] defined by his autism," creator Robia Rashid told TheWrap in a recent phone interview. "That's not all there is about him. And it was a real priority for us in the writer's room to kind of make sure that we purposefully portrayed him as a real person, not a trope, not a stereotype."
Rashid hopes that "Atypical" will start a conversation about diversity, particularly when it comes to people with disabilities and special needs. "Acceptance and diversity and… hearing voices that are not often heard is one of the most important things to me," Rashid told TheWrap.
Also Read: 'The Crown' Season 2: Queen's Life Rocked With Scandal in First Teaser (Video)
Rashid grew up in a biracial family in northern Vermont, where she says that "I just never felt like I grew up feeling the same as everybody else." This is part of what inspired her to write a story with a character who has ASD at the center. She also said someone close to her is on the spectrum, "so it's a world I feel comfortable in and a story that I really wanted to tell right."
The importance of diversity is "a message that we always need to hear, and maybe now in this moment in time more than ever," she said.
Unfortunately, when it comes to representation on TV and in movies, diverse characters with disabilities or special needs are not often seen or heard. According to GLAAD's annual "Where We Are in TV" report, "the percentage and number of series regulars with disabilities" is at a mere 1.7 percent–that's 15 characters.
According to the report, shows that include characters with disabilities (not necessarily recurring) during the 2016-2017 season are "Empire," "Rosewood," "24: Legacy," "Superstore," "Taken," "This is Us," "Trial and Error," "Grey's Anatomy," "How to Get Away With Murder," "Speechless," "NCIS: New Orleans," "Scorpion" and "The 100," "Pretty Little Liars," "Shameless," "Switched at Birth," "One Mississippi," "Transparent," "Wentworth," and "DreamWorks' Dragons."
Though the number of series regulars has risen from last year, which was 0.9 percent–eight characters–there is still much work to be done.
The idea here is to represent people with disabilities in the movies and TV shows we watch as they are represented in real life. Jennifer Laszlo Mizrahi, the president of the non-profit organization RespectAbility–a group that works with GLAAD on the "Where We Are in TV" report, points out that one in five Americans have some kind of disability. But according to a report out of the University of Southern California, the representation on screen is only about one in ten.
Also Read: David Letterman Lands New Netflix Talk Show
"We want to see diverse [people with disabilities] on big and small screens alike–and ideally played by actual people with disabilities," Mizrahi told TheWrap.
"I have not yet seen ['Atypical'.] What I have seen in clips and the trailer though does indicate that it may do a good job of portraying a young adult with high functioning Autism," Mizrahi said. "But as they say, 'if you know one person with Autism–you know one person with Autism.'" So I hope that other characters in the series also have disabilities and that they are played by people who actually live them."
As it happens, "Atypical" does include an actor who is on the autism spectrum. Anthony Jacques plays Christopher, one of Sam's friends–he explains the "bases"–and appears in two episodes. "It is a huge priority of mine to get autistic actors on the show," Rashid said. "I'm really hoping if there's a season two that we can have a lot more, because I think it's a really awesome thing to be able to do and it's a cool way to discover new actors who don't get a lot of opportunities."
Also Read: Netflix Buys 'Kick-Ass,' 'Kingsman' Comics Creator Millarworld
Rashid said that they auditioned actors who are both on and off the autism spectrum for the role of Sam, and "ultimately, we thought Keir was the best fit for the role."
The need for more diversity in TV and movies isn't going away anytime soon, but shows that aim to give voice to traditionally voiceless groups are a step in the right direction.
"Atypical" is now streaming on Netflix.