Love letters exchanged between Jackie Kennedy and former U.K. ambassador David Ormsby-Gore that reveal the depth of their passionate relationship and the heartbreak that followed when she decided to marry shipping tycoon Aristotle Onassis are up for auction.
The former First Lady and ambassador's relationship after John F. Kennedy's assassination in November, 1963 — and Ormsby-Gore's subsequent marriage proposal — have been documented in several Kennedy family biographies. But the newly discovered writings shed fresh light on not only their relationship but also on the early days of her marriage to Onassis.
"I care about you so much, and before Georgia I thought maybe I had cut all communication forever, I hope that isn't true, we have known so much and shared and lost so much together," she wrote to Ormsby-Gore just a month into her marriage to the Greek-Argentine billionaire. "I hope that bond of love and pain will never be cut."
Also Read: 'Jackie' Star Natalie Portman on Artfully Invading Jackie Kennedy's Privacy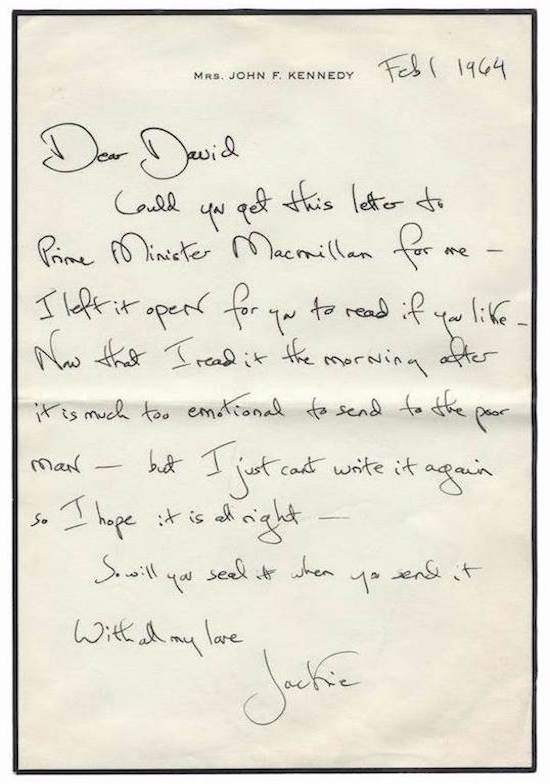 It is presumed by historians that the mention of Georgia refers to a visit they made to a mutual friend's Thomasville, Georgia, plantation a few weeks after the president was gunned down in Dallas.
The lot of letters written on both personal and White House stationery were recently discovered in two red leather briefcases in the Ormsby-Gore family's centuries-old estate in Wales.
Also Read: Watch Natalie Portman Take That Fateful Ride as the Former First Lady in 'Jackie' Trailer (Video)
The treasure trove contains some correspodence expressing deeply personal feelings Kennedy and Ormsby-Gore had for each other. In one letter, she wrote, "You and I have shared so many lives and deaths and hopes and pain — we will share them forever and be forever bound together by them. If ever I can find some healing and some comfort it has to be with someone who is not part of all my world and past and pain."
She went on to write that in the elder Onassis, she found a "wise and kind" man who "wants to protect me from being lonely."
Bonhams Auctions will be selling off the collection in London on March 29. The firm estimates the lot as being worth $120,000 to $190,000.