Five weeks after opening No. 1 with $88 million, the James Bond blockbuster "Skyfall" is back on top of the U.S. box office.
This time, the 23rd film in the 50-year-old 007 franchise claimed the weekend crown with just $11 million. While that is quite a comedown in grosses from its debut, the overall numbers for "Skyfall" keep getting more impressive. Its domestic total now stands at $261 million, and with another $20.3 million from overseas this weekend upping its international total to $656 million, it has an overall global gross of $918 million. That makes it the highest-grossing film released by Sony Pictures, topping "Spider-Man 3," which brought in $890 million in 2007.
It was a slow box office weekend because the studios largely steered clear ahead of Friday's U.S. debut of "The Hobbit." Tracking and pre-sales indicate Warner Bros. is looking at a debut north of $120 million for the first installment in Peter Jackson's latest Middle Earth epic.
Also read: Hollywood Loves the 'R,' but the Big Money's Rated PG-13
The weekend's only wide opener was FilmDistrict's "Playing for Keeps," and the romantic comedy starring Gerard Butler took in just $6 million to finish sixth. It's been a tough fall at the box office for Butler, whose surfing film "Chasing Mavericks" debuted to an even-worse $2.2 million in October.
Also read: 'Playing for Keeps' Gets Some Really Rotten Tomatoes
DreamWorks Animation's 3D kids movie "Rise of the Guardians" was second with $10.5 million, just a 22 percent drop from last week. That's good news for the slow-starting family film, which is in its third week, and offers hope for distributor Paramount that it will play through the holidays.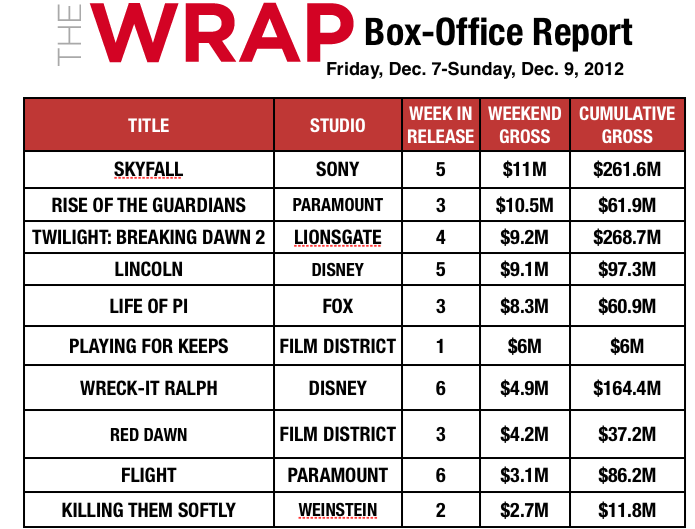 There was good news from abroad, too. "Guardians" took in $26 million from 58 foreign markets, including No. 1 finishes in the U.K., France, Italy and Mexico. Its overall domestic gross is $62 million and its worldwide total is $151 million.
Also read: Quentin Tarantino: If You Think 'Django Unchained' is Violent, Try Slavery
"Twilight: Breaking Dawn – Part 2" was third with $9.2 million and in the process the finale became the franchise's highest-grossing "Twilight" film ever globally. It has brought in $268 million domestically and $482 from foreign markets for an overall worldwide gross of $751 million.
DreamWorks and Disney's Oscar front-runner "Lincoln" was in fourth place with $9.1 million, just a 34 percent drop from last week, raising its overall U.S. total to $97.3 million after five weeks. That means it will cross the $100 million mark this week, the first Stephen Spielberg-directed movie to do that since 2008's "Indiana Jones and the Kingdom of the Crystal Skull."
Ang Lee's lyrical epic "Life of Pi" also held strongly, dropping just 31 percent from last week and finishing with $8.3 million for fifth place for Fox.
Another Oscar hopeful, the Weinstein Company's "Silver Linings Playbook," took in $2.2 million from 371 locations, a 28 percent falloff from last week.