As the evil Dr. Arden on the recently wrapped "American Horror Story: Asylum," James Cromwell committed any number of atrocities, including the double amputation of the asylum's resident nymphomaniac, Shelley.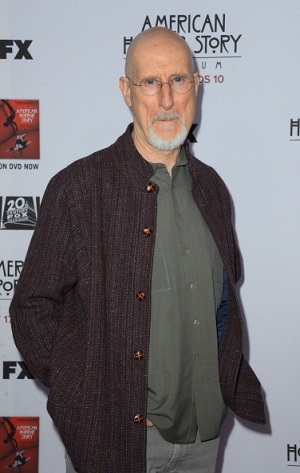 But mess with the kitties, and Cromwell is going to have a real problem with you.
Also read: Beyonce's Super Bowl Leather Has PETA in a Lather
The actor was arrested on Thursday during a protest at a meeting of the University of Wisconsin's Board of Regents, during which Cromwell accused researchers at UW of torturing cats in a protest for animal-rights group PETA.
Accompanied by another protester, Cromwell barged into the meeting and held up a placard while accusing the university of conducting "cruel and wasteful experiments" on cats.
Also read: Hobbit Animal Deaths: PETA Demands That Peter Jackson Use All-CGI Beasts in the Future
"UW Madison lies to the public about abusing cats and squandering taxpayers' money on cruel and wasteful experiments," Cromwell is heard saying in the video. "As many as 30 cats a year at UW have had holes drilled in their skulls … They are deafened, starved for days at a time and then decapitated. This is not science, this is torture, and it is criminal!"
The video shows Cromwell and his fellow protester being escorted from the meeting.
The director of the University of Wisconsin-Madison Research Animal Resources Center disputed Cromwell's claim in a release issued to the New York Daily News, among others, saying that protesters have "distorted" the research that the Center is conducting.
"Today's events are just another attempt by outside activists to draw attention to a cause," the statement reads. "They have attacked and distorted this research — which has very real benefits for people who are deaf — from every angle imaginable."
A spokeswoman for Cromwell told TheWrap that the actor has been released from custody.
In a lengthy statement, the actor again accused the school of lying about its experimentation.
"I am not at all moved by the fact that the federal government considers this hideous experiment legal," Cromwell's statement reads in part. "That only indicates that our federal animal welfare laws are grossly inadequate, not that this cruelty is morally acceptable."
Cromwell continues in the statement, "I am outraged that the University of Wisconsin has repeatedly lied about this experiment, concealed what happens inside its laboratories, and ignored pleas for compassion from hundreds of thousands of concerned people. This cruel experiment is funded with the public's money and occurs at a public institution. UW-Madison should be accountable to the public."
Watch Cromwell's protest below.