Police found three assault rifles and a five-gallon bucket filled with chemicals in the car of James Wesley Howell, who was arrested ahead of the L.A. Gay Pride parade on Sunday.
The Santa Monica Police Department, which initially said they believed the suspect intended to attack the annual parade in West Hollywood, recanted that statement late Sunday.
In a revised statement, authorities said that Howell did not intend to "harm" attendees at the parade but merely wanted to attend the event, which draws thousands to support the LGBT community.
Also Read: LA Gay Pride Parade Attendees Undeterred After Orlando Massacre
The 20-year-old Indiana native was arrested shortly after 5 a.m. on Sunday in Santa Monica after a resident notified police of his suspicious behavior, including loitering and knocking on doors.
In Howell's car, whose Indiana plates featured a National Rifle Association symbol, officers found three assault rifles, high capacity magazines, ammunition, and a five-gallon bucket filled with chemicals capable of "being formed into an improvised explosive device," according to the press release. The L.A. County Sheriff's Department Bomb Squad was called on the scene.
The Santa Monica Police Department and FBI are jointly working on the investigation.
Also Read: Orlando Terror Suspect Omar Mateen Pledged Allegiance to ISIS, FBI Investigated in 2014
Howell's arrest came hours after Omar Mateen killed 50 people at an LGBT night club in Orlando, the deadliest shooting in U.S. history. Howell was previously arrested last October for pulling a gun on one of his neighbors in Indiana, TMZ reports.
Howell's (now deleted) Facebook profile depicts a young, white male who loved cars and worked several jobs, including as a security guard (Orlando gunman Omar Mateen also worked in security). A number of his posts were anti-Democrat/anti-Hillary Clinton; the latest being a post comparing the presidential candidate to Adolf Hitler.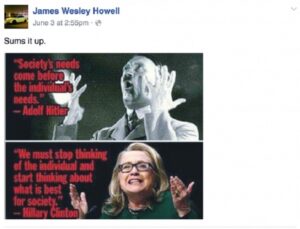 Another video showed Howell gleefully unloading an automatic weapon into the ground.
Security had been tightened at the pride parade in Weho, which attracts thousands.
A spokesperson from the LA Sheriff's Information Bureau told TheWrap that there have been several arrests at the Pride Parade, but none "are terrorist related."