Summer is here. The monster grosses of "The Hangover Part II" and "Pirates of the Caribbean: On Stranger Tides" prove that we are firmly back in tentpole territory.
Yet sandwiched between such known commodities such as Green Lantern and Capt. Jack Sparrow are a handful of up-and-coming young actors yearning to break big.
Moviegoers may be unfamiliar with hunky Sebastian Stan, funny man Charlie Day or muscle-riddled Jason Momoa, but come Labor Day that should change.
Just as we did with their female counterparts, TheWrap breaks down five actors that are looking to ride their high-profile summer roles into full-fledged stardom.
All of the links below will take you to our sister company ItsOnTheGrid.com for a full list of these actors' current and upcoming projects:
How He'll Spend His Summer: Playing side kick to Chris Evans' "Captain America: The First Avenger" (July 22, 2011).
Upcoming: Battling haunted spirits in horror film "Apparition" (2011), then sliding into prestige territory in the big-screen adaptation of Arthur Miller's classic "A View From the Bridge" opposite Vera Farmiga.
Why He's Ready to Break Through: Stan first caught TV watchers attention as the repressed homosexual prince on NBC's short-lived "Kings"; now he's ready to take his brooding stare big-time. As he's shown in independent films such as "The Education of Charlie Banks," Stan has real acting chops to go along with those rakish good looks. As Cap's loyal sidekick in the upcoming Marvel film, Stan gets to show he can do action along with drama.
How He'll Spend His Summer: Blue, furry, and helping to save the world during the Cuban Missile Crisis as the Beast in "X-Men: First Class" (June 3, 2011).
Upcoming: Jumping on the fairy tale bandwagon playing the title role in "Jack the Giant Killer" (2012) and helping revive the mercifully Mel-free Mad Max franchise in "Fury Road" (2012).
Why He's Ready to Break Through: The awkward adolescent who pulled on audiences' heartstrings in "About a Boy" is all grown up. His role as the sexually confused student in "A Single Man" was no fluke. Hoult has the charm and sex appeal necessary to open films. As the string of mega-budget films he has lined up demonstrates, Hollywood's noticed.
How He'll Spend His Summer: Trying to kill Jennifer Aniston in "Horrible Bosses" (July 8, 2011).
Upcoming: The seventh season of "It's Always Sunny in Philadelphia" is set to air this September.
Why He's Ready to Break Through: As fans of "It's Always Sunny" know, Day is not afraid to take a joke to it's filthiest extreme, making him a perfect comic foil in the era of gross out gags. "Bosses" looks like it serves up some of the same shocking, flagrantly un-P.C. humor that's made Day's FX series appointment television for many viewers.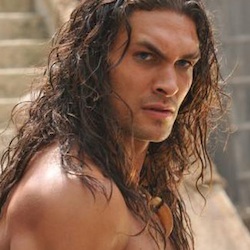 How He'll Spend His Summer: Rescuing damsels in distress and storming castles as "Conan: The Barbarian" (Aug. 19, 2011).
Upcoming: Nothing yet, but Lionsgate has franchise hopes for "Conan."
Why He's Ready to Break Through: As Khal Drogo on HBO's "Game of Thrones," Momoa demonstrates on a weekly basis that he can swing a sword better than anybody in the business. Now he's got a chance to burnish his action star bona fides on the big screen. Don't forget the last "Conan" helped to make Arnold Schwarzenegger an international superstar.
How He'll Spend His Summer: Scaring the bejesus out of moviegoers in "Super 8" (June 10, 2011).
Upcoming: Nothing announced, but if "Super 8" is half as good as its trailers, that should change soon.
Why He's Ready to Break Through: This novice teen actor was hand-picked by J.J. Abrams to anchor the supernatural thriller. As the camera-wielding kid, Courtney will serve as an onscreen surrogate for Abrams and producer Steven Spielberg. Details of the film are closely guarded, but "Super 8" has all the elements of being one of summer's breakout hits.