Jay Mariotti, the former ESPN commentator and Chicago Sun-Times columnist — who pleaded no contest to misdemeanor battery charge involving after an altercation with his then-girlfriend last September — has been charged with stalking and assaulting her.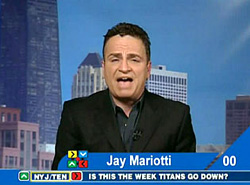 Mariotti pleaded not guilty to three felony counts and two misdemeanor counts of disobeying a domestic court order stemming from an alleged incident last month in which he "grabbed the woman outside a Venice restaurant last month, pulled a chunk of her hair out and took her cellphone away while shouting at her," according to the Los Angeles County district attorney's office.
"These allegations are complete fabrications, made by an accuser who, since October of last year, has doggedly tried to have Mr. Marriotti arrested and charged on numerous past occasions without success," Mariotti's attorney Shawn Holley said in a statement. "We look forward to our day in court, where these outrageous falsehoods will be exposed as the lies that they are."
Mariotti, who was let go by ESPN and AOL last year, faces up to five years in prison if convicted.