In a world where improbability often seems to be the number one commonality, there are three things you can be absolutely sure of if you're heading out to Indio, California, this weekend for the Coachella Valley Music & Arts Festival.
There will be crowds, it will be baking hot and you will hear and see some of the best and most unexpected music around.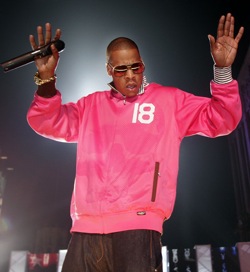 From headliners like Jay-Z, Muse and Gorillaz, to Charlotte Gainsbourg, the reunited Pavement, Beach House, Public Image Ltd., Devo, the legendary Sly and the Family Stone, Soft Pack and DJ Lance Rock from "Yo Gabba Gabba," this year's three-day festival really does have something for everyone's taste … check out the entire line-up and set times
here
.
The downside is that there really is too much music for even three days. So TheWrap –with some under-the-radar picks from KCRW's "Morning Becomes Eclectic" host Jason Bentley — has put together this guide, including set times, to the best of Southern California's best music festival.
FRIDAY
D Lance Rock. "Yo Gabba Gabba" might be not just the best kid's show on TV, but the best music show as well. Amoeba Records' former DJ is about to show Coachella why. (Sahara Tent, 2:15 p.m.)
Gil Scott-Heron.
He once told us the Revolution would not be televised … and the urban poet was right. It will be on YouTube and Twitter, but that doesn't diminish his genius and grace one bit.
(Gobi Tent, 6:55 p.m.)
Jay-Z: As his 2008 Glastonbury appearance showed — and his recent Staples Center concert revealed yet again — New York's finest is the only rapper who can seamlessly scratch a stadium or a jam-packed hit-heavy field with as much bombast and finesse as he does the vinyl. (Main Stage, 10:50 p.m.)
Public Image Ltd.
Everybody knows John Lydon's first band the Sex Pistols, but just over a week after Pistols manager
Malcolm McLaren died
, and three days after PiL's searing downtown L.A. gig, the former Johnny Rotten brings his other incredibly influential band to Coachella. There might be in a bit of overlap with Jay-Z but to miss PiL is to miss where some of the best of modern music came from and where a lot of it will go.
(Outdoor Theater, 11:20 p.m.)
Jason's Picks:
Yeasayer. People know this band out of Brooklyn, but they are not a mainstream name yet. Having seen them at First Fridays at the Natural History Museum, they're definitely one to watch. (Mojave Tent, 4:20 p.m.)
Little Dragon. One or two years ago, this electronic band from Gothenburg, Sweden first album was the number two most-played record on KCRW behind Radiohead's "In Rainbows." I might suspect Little Dragon could also join Gorillaz onstage on Sunday for the two songs they perform on their album. (Gobi Tent, 9:35 p.m.)
SATURDAY
2Manydjs. The mash-up masters play every song you've ever heard and loved in a way you never imagined. You will be body moving. (Sahara Tent, 12:05 p.m.)
Shooter Jennings. Fed up with the straightjacket of Nashville, this son of Waylon has finally taken his own outlaw road with his new band Hierophant. (Mojave Tent, 2 p.m.)
Gossip. If music should give us pure uninhibited grove driven joy, then we all need to traffic in more Gossip. (Mojave Tent, 5:40 p.m.)
Dead Weather. White Stripe/Raconteurs leader Jack White, Kills singer Alison Mosshart, Dean Fertita and Jack Lawrence play 21st century blues … see this latest effort from one of the hardest working man in music live and you'll hear what a great future the postmodern Blues have. (Outdoor Theater, 11:05 p.m.)
Jason's Picks:
Beach House. This Sub Pop band have a really magic, dreamy layer rock sound. It's really beautiful and they are one to catch. (Mojave Tent, 4:25 p.m.)
Edward Sharpe & the Magnetic Zeros. Capping a stellar year for them, this local band will enjoy a hometown crowd. This will be the prefect bookend to have a breakthrough performance at Coachella – the planets are aliened and it is their stage to conquer. (Outdoor Theater, 5:10 p.m.)
SUNDAY
Talvin Singh. World Music often conjures up the sight and sounds of too many drums and too many bad dancing, but as this DJ and tabla player proves with the Asian Underground genre he essentially invented, the music of the world is a far more interesting bag of tricks. (Sahara Tent, 1:30 p.m.)
Florence & the Machine. With more glamour than Gaga could ever conjure up, their sound packed with harps, guitars and melancholy melodies could best be called Renaissance Punk Ballads. (Gobi Tent, 4:30 p.m.)
Sly & the Family Stone. It's a sad fact that you never know if Sly Stone will actually show up but if he does … well, no one can take you higher, if you know what I mean. (Gobi Tent, 7 p.m.)
Gorillaz. The cartoon multi-genre supergroup, headed by Damon Albarn and artist Jamie Hewlett has never ceased to amaze sonically and visually when they've actually taken the stage. Plus, amidst the pop, punk, dub, soul and hip-hop, there'll be a mini-Clash reunion happening. Mick Jones and Paul Simonon both appear on Gorillaz's new "Plastic Beach" album and are serving as sidemen on Sunday. (Main Stage, 10:30 p.m.)
Jason's Picks
Middle East. This is a seven-piece folk rock troupe out of Australia that we have been championing. I think this is an opportunity to see a band that's going to be something really special early on. (Outdoor Theater, 12:15 p.m.)
Owen Pallett. I really like his stripped orchestral high drama songwriting, I'm just so curious as to how he will hold it down and will he turn in something pretty flat or will he blow people away. (Outdoor Theater, 2:25 p.m.)