Here's a number that will make your head spin like a record: "Jersey Shore" star DJ Pauly D raked in $11 million last year. And he made much of it playing music.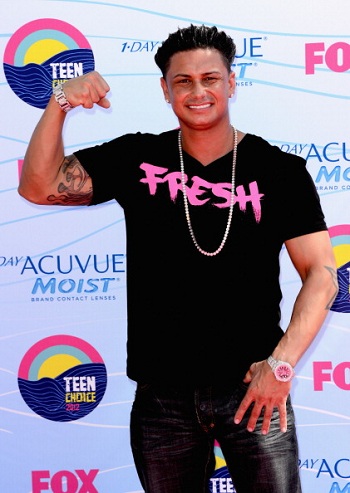 No, not performing an instrument or anything as complex as that. Actually playing other people's records. Like you do at home. For free.
Also read: "Jersey Shore" Season 6 Gets Premiere Date
Pauly — full name: Paul DelVecchio — figures prominently on Forbes' inaugural list of top 10 highest-paid DJs, placing number 7 among such other prominent tune-spinners as Skrillex, Deadmau5 and Afrojack.
DelVecchio's haul wasn't solely from his DJing — in compiling the list, Forbes took into account live shows and music sales, along with endorsements, merchandise sales and other income sources which, in DelVecchio's case, would include his "Jersey Shore" paycheck. (He'll reportedly make $2.1 million for the upcoming season of "Jersey Shore.)
Also read: Pauly D Lawsuit Reveals "Jersey Shore" Pay — He Makes HOW Much?
Even so, according to Forbes, at least half of the $11 million came from his DJ duties, and he now commands up to $40,000 per club performance and other personal appearances.
Clearly, the DJ community has not received the memo about the moribund job market.
Read Forbes' full list of highest-paid DJs below.
1) Tiesto, $22 million
2) Skrillex, $15 million
3) Swedish House Mafia, $14 million
4) David Guetta, $13.5 million
5) Steve Aoki, $12 million
6) Deadmau5, $11.5 million
7) DJ Pauly D, $11 million
8) Kaskade, $10 million
9) Afrojack, $9 million
10) Avicii, $7 million