If Cinemax's new crime thriller "Jett" reminds you of a certain Quentin Tarantino film, you're not alone.
Much like Tarantino's celebrated 1994 film "Pulp Fiction," Carla Gugino, who plays the titular Daisy "Jett" Kowalski, tells TheWrap: "It is a crime story, but it's less interested in the crime."
And Sebastian Gutierrez, who created the series, explained the similarities for us even further.
Also Read: Carla Gugino Says She's 'Talking' With 'Haunting of Hill House' Creator About Returning for 'Bly Manor'
"'Jett' really comes from a lifetime of reading crime novels, which might be where it crosses paths with 'Pulp Fiction,'" Gutierrez said. "Especially in the opening scene, because you know, Quentin also did the banter-style throughout, as we see, and shows both sides of crime."
(We won't reveal what happens at the top of the premiere, but we will say the back-and-forth dialogue there is very similar to the flow between Samuel L. Jackson and John Travolta's characters, Jules Winnfield and Vincent Vega, in "Pulp Fiction.")
The crime drama's creator says "Jett" also probably gives off some of the same vibes as Tarantino's flick because it's "telling the stories that take place in the crime underworld, but it really is a lot less about the crime itself and a lot more about how the people behave and how they lie and talk and get themselves into trouble."
Also Read: HBO Cancels 'Vice News Tonight'; Vice Media News Chief Josh Tyrangiel to Leave Company
Giancarlo Esposito, who plays crime boss Charlie Baudelaire, sees those same resemblances, though he's quick to point out how the project worked to set itself apart.
"Yea. This has that [feeling]. I didn't want it to be completely 'Pulp Fiction,' because that's kind of a slanted style. That's a great movie and I take nothing away from it, but I wanted to have a backbone of character," Esposito said. "'Pulp Fiction' stands on its own as a most incredible feature film, but how do you extend a piece like 'Jett' – 'Jett' could be a feature film and be a lot of fun – into a series that has legs."
Gugino, Gutierrez's real-life partner, describes the show as "a crime series about a tactical, unsentimental thief who is fresh out of prison and drawn into one last job."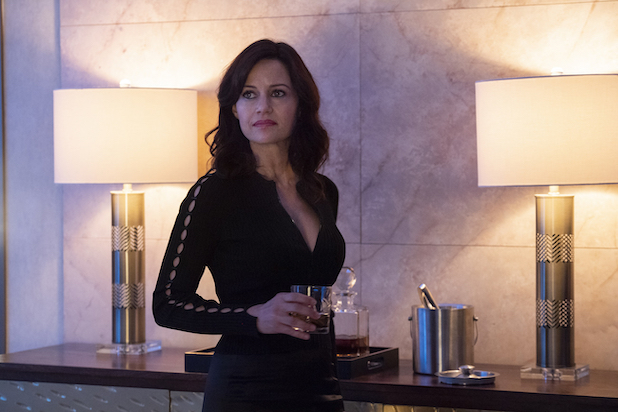 And it's that "proverbial last job" that is the catalyst for the thriller's entire Season 1 run.
"She's trying to go straight," the "Haunting of Hill House" alum said. "She's trying to figure out how to raise a daughter, who she had in prison and her friend has been raising her. She has no natural maternal instincts or at least none that she knows of yet. And she takes this job and the first season is the fallout of this job."
"It deals with loyalty and friendship and family while being in the guise of this action-packed, playful crime show," Gugino added. "It was important for me and Sebastian that it was stylish and yet the emotions are real. And it's not dark or depressing, but bad things happen and the violence has consequences. And it was important to us that there is humor in it, for sure, but that the humor is never coming from the violence. The violence when it happens is real and harsh and it has to be dealt with. So it's not about anything being funny in that regard."
Also Read: 2019 Emmy Contenders, From Sophie Turner to Richard Madden (Exclusive Photos)
Gutierrez says he wrote the part of Jett because he wanted to see a female antihero on TV — because, well, he had yet to see a female antihero on TV.
"For me, it was a matter of looking at the TV landscape and seeing that there are great roles for women, but I felt the antihero just didn't appear for them," he said. "I felt like men are allowed to be whoever they want and female antiheroes are either lesser versions or taken more to extremes, like a Lady Macbeth type."
As for Esposito's character, the actor is very aware that viewers will make the comparison to that other crime boss he's known for in "Breaking Bad" and "Better Call Saul." But he's quick to point how different Baudelaire is from Gus Fring.
"This crime boss to me was a guy who is flashy, who has fun, who enjoys women, who drinks," he said, comparing him to the colder, more calculating Fring. "Who is less about building his business, as he is about keeping it in a status quo. He's already at the top, he's buying politicians, he is not hiding. He's comfortable, and so I like this particular character. I was trying to find the balance between playing one of those mafia crime bosses, but not in an over the top one, but someone that has more fun."
"Jett" premieres Friday at 10/9c on Cinemax.