Late magazine editor and political son John Fitzgerald Kennedy Jr. would have run for president in 2016, a former top aide told TheWrap.
JFK Jr., who died in a tragic plane crash in 1999, often denied he would seek office during his lifetime, instead focusing on his glossy political magazine George. But RoseMarie Terenzio, his chief of staff, said he was eyeing multiple elected positions prior to his death — including one that went to Hillary Clinton.
"I think he would've run for president. I thought he would've run in 2008," Terenzio told TheWrap during a recent sit down in Los Angeles. "I had dinner with a friend from George last night who thought for some reason he would've waited for 2016. He would be 56."
Also Read: Hillary Clinton's Historic Speech Gets Standing Ovation From Hollywood
As the son of the late President John F. Kennedy and former First Lady Jacqueline Kennedy, it would be an understatement to call him an heir apparent in American politics. Shortly before the crash, which also claimed the life of his wife, Carolyn Bessette, and her sister, Terenzio said he considered the New York Senate seat that ultimately went to current presidential nominee, Hillary Clinton, in 2000.
"[John] was approached for Hillary's Senate seat. He basically said, If she ran he wouldn't do it. But I think he thought it was too soon. I don't think he would've liked the Senate. As governor, he would've felt more empowered to do more running the state of New York," Terenzio said.
The 1999 crash, which made national headlines and left his sister Caroline as the sole survivor in their nuclear family, took him out of the race for either role.
Also Read: Democratic Convention Day 4: Katy Perry, Chloe Grace Moretz, Kareem Abdul-Jabbar to Warm Up Crowd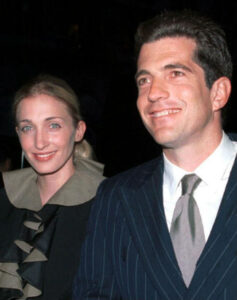 Terenzio, an executive producer and on-camera subject of the upcoming Spike TV documentary "I Am JFK J
r.," stressed that her former boss would not have entertained any office without building a career on his own merit.
"He really didn't want to run for office on his name," she said. "He really wanted George to be a success and stay up and running if he decided to leave."
Criticism that the magazine was shallow and past embarrassments, like his repeatedly failing the bar exam, gave him pause when it came to the invasive process of running for office, she said.
"Because he had a little bit of sting from the bar exam, the idea that he was a dilettante playboy, he didn't want that stigma when running for office," she said. "He always said he couldn't go and do the next thing until George was a success."
"I Am JFK Jr." airs Monday at 9 p.m. on Spike TV.