Industry pros, entertainers and civilians assembled by the hundreds today for United Talent Agency's "United Voices" rally outside the company's Beverly Hills headquarters.
Among the featured speakers at the event protesting Trump administration immigration policies was Oscar-winner Jodie Foster, who told the crowd that "it's time to engage."
"As the very, very dead Frederick Douglass once said, 'Anytime is a good time for illumination,'" Foster said. "And this is the time for illumination. I believe this time is filled with light."
Also Read: 10 Women Who Have Left Fox News Shows, From Megyn Kelly to Laurie Dhue (Photos)
UTA canceled its annual Oscars bash and organized the event after Donald Trump issued an executive order temporarily banning immigration from several majority-Muslim nations. The ban was repeatedly halted by Federal courts and the administration eventually abandoned it. Trump is expected to unveil another executive order on immigration some time next week.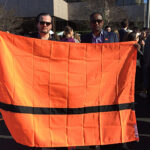 Among those present were Rodrigo Moran and Meron Semedar from the advocacy group Refugee Nation. The duo were invited to attend by UTA, and carried with them a large orange flag designed by a Syrian refugee named Yara Said. Said, said Moran, based the flag on the life vest she wore while escaping from the war-torn Middle Eastern nation.
"I'm here to hopefully lend some credence to the notion that Donald Trump doesn't represent all of America," said commercial photographer August Gering. "Hopefully, the majority of this country strongly disagrees with the things he's trying to do, and we won't stand for it."
Also Read: 21 Top-Rated Cable News Shows, Ranked: How Do CNN, MSNBC, Fox News Stack Up? (Photos)
"Outlander" star Sam Heughan was also on hand, telling TheWrap. "We're just here, not to bash anyone." Europe, he said, wants "the best for this glorious country. America's such a great country, we look up to you guys and we know you'll do the right thing."
By its conclusion, an estimated two thousand people attended the event, according to Beverly Hills PD.