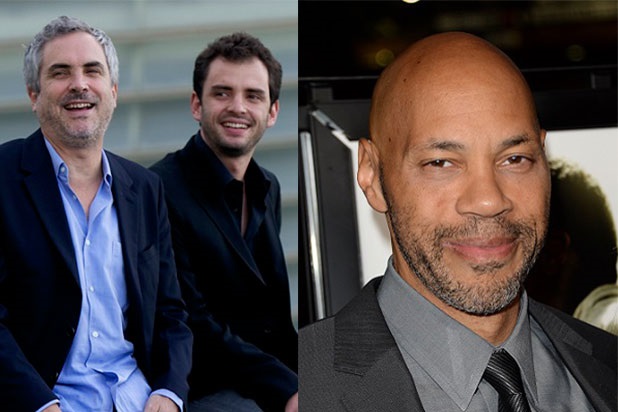 Alfonso Cuarón and Jonás Cuarón of "Gravity" won for original screenplay and John Ridley was honored for his adaptation on "12 Years a Slave" Tuesday night at the Screenwriters Choice Awards.
They took home their prizes at the ninth Final Draft Awards gala, held at the Paramount Theater on the studio lot. The winners were determined via online voting by users of the screenwriting software.
Steve Levitan and Christopher Lloyd took top honors in the TV comedy category for "Modern Family," and "Breaking Bad' creator Vince Gilligan was honored on the drama side.
Also read: 5 Ways to Write an Awards Contender
The Cuarons beat out Woody Allen ("Blue Jasmine"), Spike Jonze ("Her"), Joel and Ethan Coen ("Inside Llewyn Davis") and Bob Nelson ("Nebraska").
Ridley adapted "12 Years" from the 1853 autobiography of Solomon Northrup, a free black man kidnapped into slavery. Billy Ray ("Captain Phillips"), Steve Coogan and Jeff Pope ("Philomena") and Terence Winter ("The Wolf of Wall Street") were also nominated.
The "Modern Family" team beat out Lena Dunham ("Girls"), Greg Daniels and Michael Schur ("Parks and Recreation") and Armando Iannucci ("Veep"). Gilligan won over drama nominees Julian Fellowes ("Downton Abbey"), David Benioff and D.B. Weiss ("Game of Thrones"), Beau Willmon ("House of Cards") and Matthew Weiner ("Mad Men").
Veteran screenwriter, director and producer Nancy Meyers received the Hall of Fame Award. Meyers has been a force in Hollywood since producing and sharing an Oscar nomination for co-writing "Private Benjamin" in 1980. Since then, her writing credits include "Baby Boom," "Father of the Bride" "The Parent Trap," "Something's Gotta Give" and "It's Complicated," which she also directed.
The show was hosted by writer-director and comedian Jay Chandrasekhar.