EXCLUSIVE
Johnny Depp has gained more than a pirate's ransom for playing Jack Sparrow in the four "Pirates of the Caribbean" movies, TheWrap has learned.
He's earned close to $350 million from the Jerry Bruckheimer-produced franchise, according to an individual with knowledge of his deals.
Disney disputed the sum, calling it "highly inaccurate" but declined to provide any details.
Another individual close to the franchise said the number was closer to $280 million for the four Pirates combined.
Either way, it's a stunning amount of cash for a single actor in a movie – Depp does not have so much as an executive producer credit. But as one person close to the franchise told TheWrap, "He's earned every penny."
With the fourth installment, "Pirates of the Caribbean: On Stranger Tides," passing the billion-dollar mark at the global box office over the weekend, the haul makes Depp the highest-paid actor in recent Hollywood history.
Also Read: Johnny Depp Close to Deal for Fifth 'Pirates' Movie (Exclusive)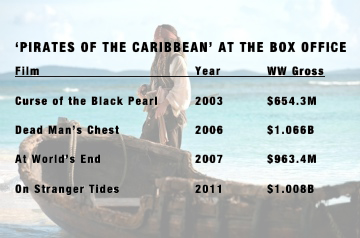 An insider close to Depp said that the actor is nearing a deal to star in a fifth "Pirates."
Meanwhile, the insider told TheWrap that Depp is paid a percentage of the movie's gross profits after what Hollywood refers to as "cash break." Cash break is the point after which the studio breaks even on its production cost and marketing expenses.
In a more cost-conscious Hollywood, that formula has replaced the traditional 20 percent share of the gross earnings on a film for major movie stars and A-list directors. But in Depp's case, the new formula has still translated into hundreds of millions of dollars in earnings on a single film franchise.
Also read: One Billion Dollars! Disney's 'Pirates 4' Is 8th Film to Cross Big Box-Office Mark
Depp's agent, Tracey Jacobs at United Talent Agency, declined to comment on her client's earnings.
Depp made three separate deals for the movie franchise, including a deal for installments 2 and 3, and another for number 4.
The "Pirates" franchise has taken in about $3.7 billion in ticket receipts at the worldwide box office alone. That does not include hundreds of millions of dollars more for each film in DVD, cable TV, merchandizing and other back-end revenues.
On its most recent list of top-earning actors, Forbes magazine estimated that Depp made $75 million between June 2009 and June 2010.
The actor probably won't fare poorly on the next Forbes list, either.
In December, he appeared in the GK Films-produced thriller "The Tourist" alongside Angelina Jolie. The $100 million film bombed stateside, grossing just $67.6 million. But Depp's strong international appeal helped salvage the movie, which made $210.7 million abroad.
Depp also voice-starred in Paramount's "Rango," a CG film that put the studio into the animation business for the first time without the help of DreamWorks. That film started strong in the U.S. and Canada. Ironically, however, it sputtered a bit abraod, taking in $242.6 million worldwide on a production spend of about $135 million.
Even Johnny Depp can't win them all.