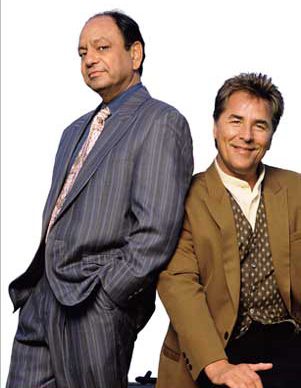 It's shaping up to be an expensive day for entertainment companies.
Just hours after a $269 million ruling against Disney over failing to share profits from "Who Wants to Be a Millionaire," a Los Angeles production company has been ordered to pay Don Johnson $23.2 million for his work on the CBS drama "Nash Bridges."
That payday could get even bigger. A Los Angeles Superior Court jury said the actor's contract entitled him to 50 percent of the show's profits.
"It was my idea, and I owned the rights in the first place," Johnson said in a statement. "From the beginning, I have asked only that Rysher honor our contract, and I am so pleased that the jury agreed with me."
Johnson was on the cop drama for six seasons, from 1996 to 2001. In a February 2009 suit, the actor says the show's producers — Rysher Entertainment and 2929 Entertainment, as well as Rysher's new owner, Qualia Capital — owed him a share of the show's profits. Rysher was sold by billionaires Mark Cuban and Todd Wagner to Qualia in 2006. Johnson claimed he did not receive a portion of the "Nash Bridges" $150 million syndication deal.
Rysher Entertainment's attorney, Bart H. Williams, said the company was ready to appeal Wednesday's decision.
"Rysher is extremely disappointed in today's verdict (in the matter of Don Johnson Productions vs. Rysher) and will aggressively pursue all legal recourse," Williams said in a statement. "While we respect the jury's right to their judgment, there are several matters of law that will form the basis of Rysher's appeal."
Representatives for 2929 and Qualia did not immediately respond to requests for comment. In court, the production companies argued that they had lost money on the show, due to production costs and the star's salary.
Johnson's attorney, Mark C. Holscher, said the show, which is currently playing in more than 45 countries around the world, should generate at least an additional $50 million over the coming years. If that's the case, than Johnson could be looking at another $20 million-plus windfall.