Emmy voters are creatures of habit.
For that, Jon Stewart and Jerry Bruckheimer are very happy, indeed.
"The Daily Show With Jon Stewart," Comedy Central's nightly mixture of news and comedy, and "The Amazing Race," the global reality show executive produced by Bruckheimer Television with Bertram van Munster and Elise Doganieri, are riding the longest single-series winning streaks in Emmy history.
Both shows have won the top award in their category – Outstanding Variety, Music or Comedy Series and Outstanding Reality – Competition Program, respectively – for seven years in a row.
But this year, both might be vulnerable, for reasons that could include Simon Cowell's retirement, Stephen Colbert's buzzcut, Conan O'Brien's firing or Betty White's ageless sass.
And "The Daily Show" and "Amazing Race" aren't the only two shows that'll ride winning streaks to the 2010 Primetime Emmys on Sunday night.
The reigning Outstanding Drama and Comedy Series, "Mad Men" and "30 Rock," have won two and three times in a row, respectively.
Three of the Lead Actor and Actress nominees – Alec Baldwin in "30 Rock," Bryan Cranston in "Breaking Bad" and Glenn Close in "Damages" – have won both of the last two years.
And while the Outstanding Made for Television Movie category goes to a different movie each year, that winner has come from HBO for the last six years in a row.
Granted, none of these may equal the famous Daytime Emmy losing streak of Susan Lucci, who failed to bring home the gold for 18 straight years before finally winning in 1999. But they emphasize the habit of Emmy voters to find favorites and stick to them, often making the show the most predictable of all the major awards shows.
That's why some modest winds of change seem especially refreshing this Emmy season.
The biggest wind, perhaps, is blowing in the face of Stewart, in his quest to win an eighth consecutive award. At least three of his competitors have boosted their chances this past season.
Stephen Colbert took his show on the road to Iraq, where he entertained the troops and got a military-style haircut. Conan O'Brien lost "The Tonight Show" to Jay Leno, and submitted his emotional farewell show as his official Emmy submission, reinforcing the wave of good will and "Team Coco" spirit that accompanied his exit. And "Saturday Night Live" got its best ratings in years by tapping Betty White to host, producing an episode that already won three Emmys last weekend at the Creative Arts ceremony.
Any of those shows could easily end the Jon Stewart juggernaut; the hunch in these parts is that Colbert will win out over "The Daily Show," on which he got his start.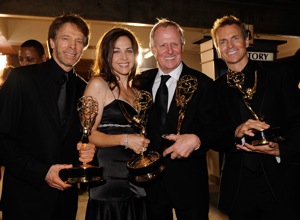 For "The Amazing Race," pitfalls also stand in the way of another victory in a category in which the show has never lost. Most notable is Simon Cowell's departure from "American Idol," which put a memorable capper on what was otherwise a lackluster season, and kept the category's only true pop-culture phenomenon in the news all summer long.
"Survivor," meanwhile, had one of its most entertaining seasons ever.
My guess: "Amazing Race" (right) pulls out another win … barely.
As for the other streaks, "Mad Men" strengthened its position with a couple of Creative Arts wins on Saturday, though it could face challenges from what might have been the best season of "Dexter," or the well-liked (and traditional, which the Academy likes) "The Good Wife," or the biggest event of the TV season, the final season of "Lost."
Still, "Mad Men" remains one of the most acclaimed shows on television, and three in a row isn't a stretch in this category: "The Defenders" did it 45 years ago, while "Hill Street Blues" and "The West Wing" both won the award for four consecutive years.
"30 Rock," on the other hand, seems vulnerable in its quest for a fourth straight comedy win, particularly after being shut out at the Creative Arts show. The Outstanding Casting for a Comedy Series award that went to "Modern Family" could be a clear sign that momentum is now with ABC's adventurous new comedy; if not, "Glee" is primed to make a move on Tina Fey's three-time winner.
As for the streaks run up by Alec Baldwin, Bryan Cranston and Glenn Close, it'll come as no surprise if none of them win on Sunday, and a shock if more than one does.
Look, instead, for that rarity on Emmy night: new names in the acting categories.
Of course, this being the Emmys, those new names aren't completely new – they include the likes of Michael C. Hall, the "Dexter" star who's been nominated four times, three for his current show and once for "Six Feet Under"; Julianna Marguiles, a six-time nominee (and one-time winner) for "ER" who's now up for "The Good Wife"; Edie Falco, nominated for "Nurse Jackie" after winning three times for "The Sopranos"; and Tony Shalhoub, who already has eight nominations and three wins for "Monk," but could take home one more statuette as a parting gift now that his show is ending.
Still, one Emmy streak seems a lock to continue. HBO has three of the six nominees in the Outstanding Made for Television Movie category, including the favorite, "Temple Grandin," and the likely runner-up, "You Don't Know Jack."
In this particular category, seven in a row should be no problem at all