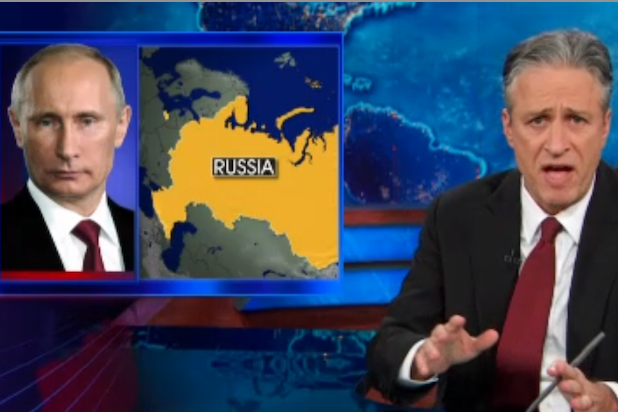 The Sochi Olympics are still weeks away, but one key competition is already heating up.
It's the fight to see which region of the globe can be the most hostile to homosexuals, with host country Russia and African nations such as Nigeria all making strong bids for earning the medal for being the most homophobic.
"The great part about the homophobic Olympics is that just like the regular Olympics, every nation can take part," Jon Stewart said on Tuesday's "The Daily Show."
Also read: 'Bachelor' Juan Pablo Galavis Calls Gays 'More Pervert,' Says LGBT Contestant Would Be 'Too Much'
For now, those countries have maintained an impressive lead in the battle to be the most intolerant by criminalizing certain gay and lesbian activities and condoning physical and legal intimidation of the LGBT community. But a late-breaking surge by a come-from-behind team could upset their ambitions.
"Don't count out America's homophobia," "Daily Show" correspondent Aasif Mandvi said. "Team USA has been regressing all winter and I think we have a shot."
Also read: 'Bachelor' Juan Pablo Galavis' Anti-Gay Comments Intensify Spotlight on Network Culpability
He noted that "The Bachelor" star Juan Pablo recently said gay couples were "more pervert" and then backtracked by saying he thought that viewers might find the idea of a gay bachelor finding love "too racy to accept."
"Too racy to accept?" Stewart said. "The f–king guy is on 'The Bachelor.' Is he saying two people of the same gender falling in love is too racy? Americans prefer seeing a dude serially banging 20 different girls he just met in a hot tub to winnow them down to the one he will ultimately break up with via tabloid magazine."
Also read: 'Bachelor' Juan Pablo Galavis-GLAAD Release New Apology for Anti-Gay Statements
"Right, traditional marriage," Mandvi said.
Will Juan Pablo's homophobic gaffe be enough to help the U.S.A. pass the finish line first?
Watch the clip to find out: