Jon Stewart has a message for Fox News host Bill O'Reilly — chill out about the loss of "traditional America."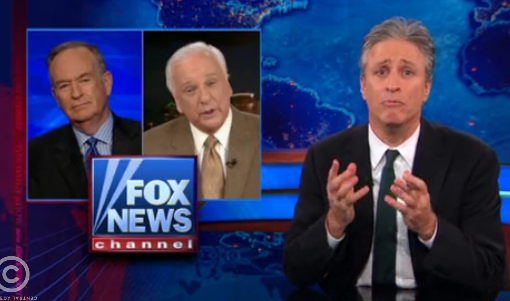 "The Daily Show" funnyman skewered the right-leaning network on Thursday for treating the re-election of President Barack Obama — a victory aided by minority voters — as a cataclysm for the white men who were once in the driver's seat in America. Stewart implied that this longing on behalf of some of the network's commentators for a Grover's Corners past may not be rooted in reality.
"Yes Bill," Stewart said. "Obama's re-election marked the moment that traditional America ended. The moment when the family from the 1950s sitcom 'Leave it to Beaver' ceased to be real."
Moreover, Stewart said that ethnic demographics are constantly shifting in the United States and that such changes can be a little troublesome for the folks who were in control.
"You don't need to worry so much," Stewart counseled. "What you are demonstrating is the health and vitality of America's greatest tradition — a fevered, frightened ruling class lamenting the rise of a new ethnically and religiously diverse new class. One that will destroy all that is virtuous and good and bring the American experiment crashing to the ground."
He added that those rising ethnic groups work so hard so that their children and grandchildren have the opportunity to be intolerant of new immigrant populations. Thus the circle of life continues.