Jon Stewart announced Tuesday that he's stepping down as host of "The Daily Show" after nearly 20 years of mocking the day's political events.
While his decision to exit sometime this year is momentous, it's merely the latest event that's kept the late-night television landscape in a nearly constant state of upheaval for the past year.
Read on for a timeline of the ground-shifting changes that have left night-owl programming in a state of flux.
Feb. 17, 2014: "Saturday Night Live" alum Jimmy Fallon, who had been hosting NBC's "Late Night," takes over as host of "The Tonight Show," after Jay Leno exits the show for the second and presumably last time.
Feb. 24: Fallon's fellow "SNL" vet Seth Meyers takes Fallon's spot on "Late Night" with his first episode as host.
April 3, 2014: David Letterman drops a bombshell and announces during the taping of his show that he'll be stepping down as host of CBS's "The Late Show." His last episode, after more than 20 years as host, will air May 20, 2015.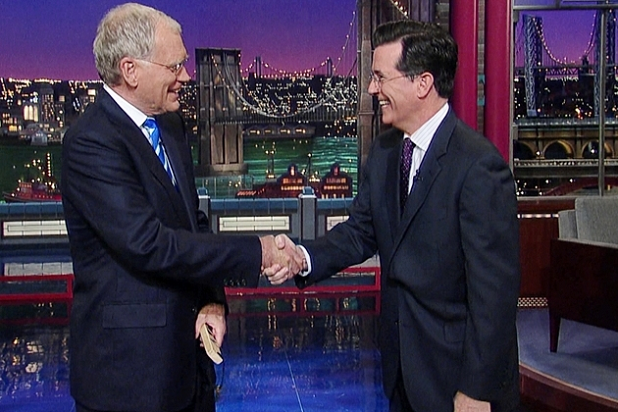 April 10, 2014: CBS recruits Stephen Colbert, at the time host of Comedy Central's "The Colbert Report," as Letterman's replacement. Colbert's last episode on Comedy Central airs Dec.18, bringing an end to "The Colbert Report."
Also Read: Jon Stewart's 'Daily Show' Departure Sparks Social Media Storm
April 27, 2014: Former "The Daily Show" correspondent John Oliver kicks off his new HBO show, "Last Week Tonight." Oliver was scooped up by HBO after he proved himself a worthy heir apparent to Stewart by guest-hosting "The Daily Show" while Stewart took a break to film "Rosewater."
April 28, 2014: Dealing a second blow to CBS's late-night lineup, Craig Ferguson — whose "Late Late Show" aired after Letterman — says he too is hanging up his spurs.
See video: John Oliver Tells RadioShack Critics to 'Go F–k Yourselves'
May 9, 2014: Comedy Central announces that Larry Wilmore, Senior Black Correspondent for "The Daily Show," will take over Colbert's timeslot with a new offering, "The Minority Report With Larry Wilmore" — though the show will shortly thereafter change its title to "The Nightly Show" due to another television project also bearing the title "The Minority Report."
Aug. 5, 2014: As reported exclusively by TheWrap, British actor James Corden, of Disney's "Into the Woods," is chosen as Ferguson's successor.

Dec. 19, 2014: Craig Ferguson signs off as "The Late Late Show" host after 2,058 episodes.
Feb. 10, 2015: Jon Stewart announces that he will leave Comedy Central's "The Daily Show" after 17 years of skewering politicians. And that's no joke.