EXCLUSIVE
It's much ado about something.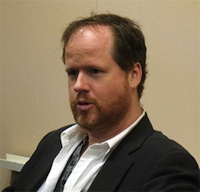 Joss Whedon has directed, adapted, cast and filmed an entire movie — an adaptation of Shakespeare's "Much Ado About Nothing" — in secret, TheWrap has learned.
Whedon, who created "Buffy the Vampire Slayer" and "Angel" and wrote and directed Marvel's upcoming "The Avengers," wrote and directed the movie, an individual close to the project told TheWrap Sunday night.
On Sunday night, a website appeared announcing that Whedon's "Much Ado About Nothing," which it says is "based on a play," has completed principal photography. Two people close to the project confirmed that Whedon had indeed filmed a secret movie, and only announced it on Sunday night.
The independent film doesn't yet have distribution.
Also read: Nathan Fillion Will Soon Grace TNT With His Sexy, Cult-Friendly Presence
Actors include Sean Maher, who starred on Whedon's "Firefly" and in his 2005 movie "Serenity;" Fran Kranz, who stars in "The Cabin in the Woods," which Whedon wrote and is producing; "Castle," "Firefly" and "Buffy the Vampire Slayer" star Nathan Fillion and "Angel" and "Cabin" star Amy Acker. Spencer Treat Clark and Jillian Morgese, newcomers to Whedon's projects, also star.
Some of the actors took to Twitter to express excitement about the film Sunday night.
"I promise you it's the real deal and we're VERY excited about it!" Maher wrote.
He also tweeted, "Surprise! We just wrapped today…"
Shakespeare's "Much Ado About Nothing" is the kind of project Whedon likes. Its use of malapropisms appeals to Whedon's style, as do its characters who have unconventional views about love.
The play is a comedy about two sets of lovers. The fast-talking Benedick and Beatrice banter cynically while the sweet young Claudio and Hero are so in love they can barely speak.
Benedick and Beatrice get tricked into proclaiming their love for eachother while Claudio is fooled into rejecting Hero at the altar. But the scheme is foiled and the two couples wed.