Junior's Deli, an iconic West L.A. eatery since 1959, will close at the end of the year, after lease talks fell apart.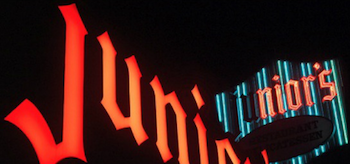 Co-owners David and John Saul have been haggling with landlord Four Corners Investments for a year, but they assumed they would reach a deal, as they have in years past.
"I'm in shock," David Saul told TheWrap. "This just blindsided us. We always come to an agreement."
The Sauls' father Marvin founded Junior's — Initially an eight-table joint on Pico Boulevard — in 1959. It moved to Westwood Boulevard, just north of Pico, in 1967 and now spans 11,000 square feet. Its business includes a sit-down restaurant, bakery and catering business.
Located just west of Fox's studio lot, executives, actors and industry members of all sorts have used the place to break bread and hammer out deals.
Mel Brooks is supposed to have written parts of "History of the World Part I," his farcical epic, in the restaurant. In an obituary penned after Marvin Saul's death last December, Brooks described him as "an incredible host."
"I always thought Junior's was the best because Marvin really cared," Brooks told the Los Angeles Times. "They probably hated him in the kitchen because he was on top of every dish. He tasted everything."
David Saul said the closing is a simple matter of economics. He and his brother told Four Corners what they could afford, and Four Corners would not go to that number. Four Corners told the Sauls what they were willing to lease it for, and the Sauls could not afford it, Saul told TheWrap.
According to other reports, revenue has slumped at the deli over the past few years, forcing its owners to cut staff.
Saul said financial discussions have been fraught for some time.
"It's always been an issue," Saul said. "We could afford a certain number, and they didn't want to go to that number."