You can think of "Justice League" hero The Flash as a fill-in drummer for Metallica, star Ezra Miller says.
Entertainment Weekly's Comic-Con preview features a brand-new photo of Batman, The Flash, and Wonder Woman from the upcoming "Justice League." We also find out a little more about Miller's Flash.
"He's this really endearing, altruistic nerd. He's the 13-year-old Metallica fan, and Metallica says, 'We lost our drummer in a freak accident. We need you to play drums, bro!' I don't even have drumsticks!" Miller said.
Also Read: 'The Batman:' Matt Reeves Has Shelved Ben Affleck's Script
Warner Bros. is expected to unspool the latest trailer for "Justice League" in San Diego for the 2017 Comic-Con, when DC Entertainment does their presentation first thing Saturday morning inside Hall H. The first footage of Jason Momoa from his standalone "Aquaman" film will also be showcased.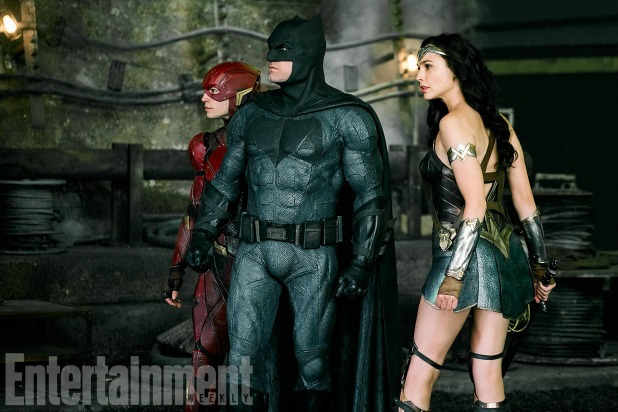 Directed by Zack Snyder, "Justice League" stars Ben Affleck as Batman, Gal Gadot as Wonder Woman, Henry Cavill as Superman, Jason Momoa as Aquaman, Miller as The Flash, Ray Fisher as Cyborg, Jesse Eisenberg as Lex Luthor, Jeremy Irons as Alfred, Amy Adams as Lois Lane, Amber Heard as Mera, J.K. Simmons as Jim Gordon, and Kiersey Clemons as Iris West. Julian Lewis Jones and Willem Dafoe are also set to appear.
[powergridprofile powerrank="6" node="236489" type="company" path="http://powergrid.thewrap.com/company/warner-bros-pictures" title="Warner Bros. Pictures" image="warner-bros-pictures-logo2_1.jpg"]
"Justice League" hits theaters November 17, 2017.