The "managed by Scooter Braun" experience was democratized on Wednesday night, expanding beyond Justin Bieber and The Wanted.
With the premiere for Open Road's "Justin Bieber's Believe" running 70-odd minutes late at L.A. Live and nobody in their seats, Braun was about to earn his producer's fee on the documentary…again.
In a few seconds, I'd learn that Bieber's fans are dialed in enough to recognize Braun's voice on a microphone in a dark theatre, yet so over connected that they don't recognize the faux pas in recording the movie up-from-black on their phone (and then at least a snippet from every concert scene in the ninety-minute film.)
Braun, Bieber, and Usher. These three producers will be swimming in monopoly money by New Year's. "It comes out Christmas day," Bieber told the theatre. "You guys should go see it Christmas day as well."
After taking the microphone and ordering no one in particular, "Turn off the music, turn off the music," (killing the loop of Bieber's album that had been playing), Braun told everyone to "please take your seats, please take your seats," in the faux-calm cadence of an amusement park safety voice-over, drafting the restless crowd on to his side.
Seconds later, butts were in seats and there was near total silence. It's fun to be managed by Scooter Braun.
Choking the hand that feeds: after 156 concerts over 16 months, Bieber's probably wishing he did this to Mike Posner a long time ago. Posner's the guy who wrote and produced "Boyfriend." 
Braun emceed briefly, introducing director Jon Chu, who brought out producer/big-bro Usher. Usher spent all of 19 seconds introducing Bieber himself. These guys were exhausted from a press highway that looked like this:
Bieber followed in a red suit, indoor sunglasses, and white slippers. The slippers are a team Bieber signature, as his stylist/swagger coach Ryan Good was also accepting compliments on the pair on his own feet in the lobby earlier.
"Scooter I love you man, Usher I love you," Bieber said "You guys have been mentors in my life for the past…feels like forever."
Open Road Films' marketing presidentJason Cassidy, Open Road CEO Tom Ortenberg, Dolphin Entertainment CEO Bill O'Dowd, the just re-upped CFO Steven Andriuzzo, Scooter Braun Projects COO Scott Manson, and  Open Road's just-promoted COO Elliott Kleinberg on the purple carpet.
The singer took a seat in the sixth row in the center, with his mother.  His social rat pack pals Kylie Jenner and Jaden Smith sat side by side nearby. Bieber was gone before the end of the film.
Notable absences: Floyd "Fairweather" Mayweather, who didn't return the favor after the Biebs has entouraged with him twice on his biggest fight nights, any whiff of a Bieber girlfriend past or future, and an official after party.
Open Road's Ortenberg's former colleagues at the The Weinstein Company had warmed up the Regal Cinema's "Premiere House" two nights earlier.
"Early Christmas Present"
On Monday night, Meryl Streep, Julia Roberts, Juliette Lewis, Ewan McGregor, Abigail Breslin, Julianne Nicholson, and John Wells had less shrieking but more shock-and-awe at their L.A. premiere of "August: Osage County."
For Streep and Roberts, it came hours after they received the top actress nominations for the Critics Choice awards.

"I want to thank one particular man who put this entire project together," Harvey Weinstein told the crowd. "His name is Kevin Huvane, the H is silent, H-U-V-A-N-E, he works at CAA and Meryl and Julia are his clients, so is John Wells. He is one of my best friends and he's incredibly passionate person who just deserves a round of applause."
R-O-B-E-R-T-S, H-U-V-A-N-E, and S-T-R-E-E-P. Got it.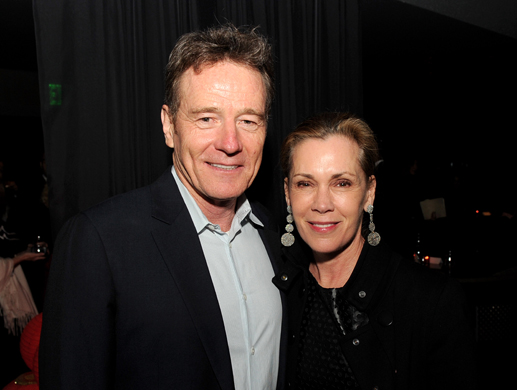 Bryan Cranston and Robin Dearden.
It had been a monumental day for TWC, announcing a production deal with Miramax, the company and era that established their brand.
"The Weinstein brothers got a Christmas present today," Weinstein said.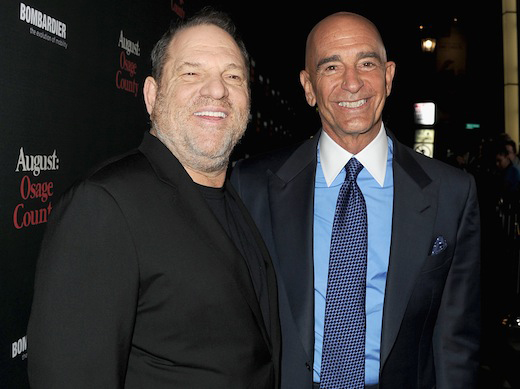 Harvey Weinstein with Tom Barrack, the partner who reunites him with his first legacy – the Miramax library.
Three years ago, they were rival bidders for Miramax when Disney put the studio up for sale. Now they're on the same team.
While Streep, Roberts, Lewis, and Breslin waited off stage-right to be introduced, Barrack took the mic for a moment.
"I'm a financial guy. All financial guys have been lured to the movie business by a gorgeous, incredible, luscious woman. For me, it's Harvey's mom."
Others were likely lured by Juliette Lewis, who capped off the most formal of the fashion of the night with a tiara.
Ewan McGregor and producer Jean Doumanian, who spent two months together in Oklahoma shooting in the summer of 2012.
"We had a lot of dinners. Everybody became a family," Doumanian told TheWRAP. If you're wondering who hosted from this all-star lineup, it was the on-screen matriarch. "Everyone would take something over to Meryl's house."
The Weinstein crew with their transpo department –  for non stops to rural Oklahoma – Bombardier Jets.
"They helped fly us around. If anyone wants to buy one of their planes, see me afterwards," Weinstein told the 800 people in the crowd, drawing laughs.
"We also want to thank Brownie Brittle and Purity Vodka, which you'll all need after you see this movie." The movie now opens on December 27, not Christmas day. Vodka will still be needed.
Meanwhile in NYC…
"Grudge Match" producer Bill Gerber and Warner Bros.' Kevin Tsujihara.
Robert DeNiro, Sylvester Stallone, Kim Basinger, and Alan Arkin headlined the Tribeca Film Institute's Annual Benefit – this year hosting the world premiere of Warner's "Grudge Match."
The next night at the Ziegfeld, "The Wolf of Wall Street" took over the same location, followed by an after party at the un-cool Roseland Ballroom. The after-after party was more on-brand,  where many actual wolves of wall street hangout, the new(ish) Tao Downtown. At 3:00 a.m., the party was still going.
The Round-Up
Back in Los Angeles, Mireille Enos, Ireland Baldwin (channeling Emilia Clarke) and Michelle Cho mustered a gentler spirit of the season by hosting the Humane Society of the United States' screening of "Wild Horses" at CAA. Enos stars in the narrative short, raising awareness about the threat of extinction of wild horses in the west due to government "round-up" programs.
As for this round-up, the hay of these late season premieres and the year in 2013 parties and events is in the proverbial barn.
On to awards season.
Photo Credits: August: Bieber by Kevin Winter/Getty Images. Osage County by Wireimage and Getty Images. Wild Horses by Mike Windle/Getty Images.