Katie Couric took to Instagram to weigh in on former "Today Show" co-host Matt Lauer's ousting from NBC after he was accused of multiple acts of sexual misconduct.
Couric posted a picture with her daughter on Friday (seen below), and one commenter wanted to know why she hadn't spoke out about Lauer, who she worked alongside on the NBC morning show for 10 years.
"Nothing to say on Matt?? Huh – ya'll would have been all over the story years ago," said the commenter.
Also Read: Seth Meyers Dubs Matt Lauer the Real 'Dildo at Work' in a 'Closer Look' (Video)
"It's incredibly upsetting and I will say something when I'm ready to," Couric commented back. "Thanks for your interest."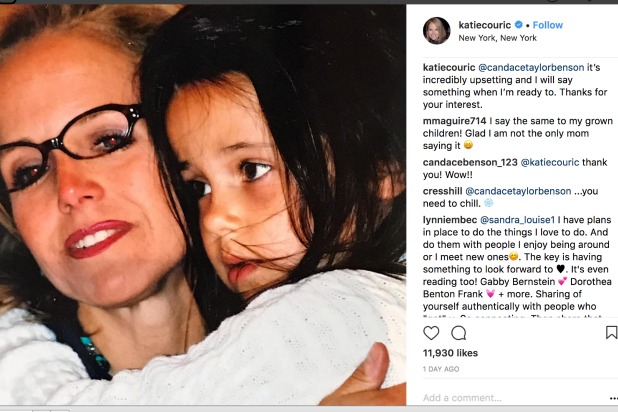 NBC News Chairman Andy Lack released a memo to employees in late November saying Lauer had been fired after a complaint was filed by a staffer detailing "inappropriate sexual behavior in the workplace." Lack added he was "presented with reason" to believe it wasn't an "isolated incident."
Also Read: What Did NBC Know About Matt Lauer, and When?
Soon after, a damning report from Variety detailed several claims against Lauer, including giving one staff member a  sex toy and "an explicit note" on how he wanted to use it on her. The exchange left the staffer "mortified."
Lauer had been at the helm of the "Today Show" since 1994 and was pulling in a $25 million-a-year salary. NBC confirmed to TheWrap he will not be receiving severance from the network.