Roll over, Bob Woodward, and tell Jon Stewart the news — Keith Richards is about to blow you off the bestseller list.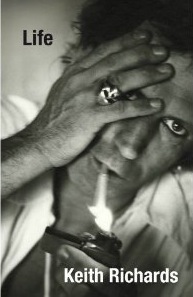 The Stones haven't had a multi-million selling studio album since 1989's "Steel Wheels," but Richards' memoir "Life" — due out Oct. 26 –is already a top seller in pre-orders on Amazon.
And if previous musical memoirs are any indication, the human guitar riff, Richards, who pocketed a $7.3 million advance for "Life" — is going to get a lot of sales satisfaction this fall.
See slideshow: "Rock Books 101."
"We're in an era where fans want something to buy — even though they're not buying the music anymore," Neil Strauss, who has collaborated on books with Motley Crue and Marilyn Manson, told TheWrap.
"But rule No. 1 for a good rock book is you have to tell everything."
Amazingly, while only a small percentage of the 200,000 books released each year sell 25,000 copies or more, rock memoirs make money for increasingly penny-pinching publishers.
"They're pretty easy to produce, and with an already built-in audience, fairly cost-effective," a NYC-based publishing executive told TheWrap. "Pretty much all you have to do is interview the subject and just get a ghost(writer) to polish it into prose."
The genre really took off with Motley Crue's explicit "The Dirt." The raw oral history from the self-declared "world's most notorious rock band," assisted by Strauss, spent a month on the New York Times' bestseller list when it came out in 2001. Selling 233,000 in hardcover and more in paperback since, "The Dirt" not only resurrected the band's career but was optioned for a yet-unmade Hollywood adaptation.
"I think it worked because it appealed to people who weren't even Motley Crue fans," says Strauss. "Moby told me he liked the book a lot, Pink the pop singer liked the book because it was such a larger-than-life story."
"The Dirt" even spawned a cottage literary industry for its members with individual memoirs. Bassist Nikki Sixx's "The Heroin Diaries," debuted at No. 7 on the Time's bestseller list in 2007 and has, says Nielsen BookScan, sold 91,000 copies in hardcover.
Following the Crue's success, the past decade has seen a backstage buffet of warts, addictions and tell-all memoirs.
Bob Dylan's critically acclaimed "Chronicles: Volume One" spent almost five months on the New York Times non-fiction bestseller list after it came out in 2004. It has sold 165,000 copies in hardcover, according to Bookscan.
A 2007 self-titled memoir by former Guns'n'Roses guitarist Slash — full of exactly the sex, drugs and more sex and drugs you would expect — has sold over 73,000 copies in hardcover.
Anthony Kiedis of the Red Hot Chili Peppers wrote "Scar Tissue," and Jane's Addiction guitarist Dave Navarro, Pat Benatar, rapper 50 Cent, Eric Clapton and even Rick Springfield, who had a recent best seller with "Late, Late At Night," also have let it all hang out to their hungry readers.
And "Life" isn't the only upcoming rock book that's got the literary world hopping right now.
David Bowie was one of the big attractions at the Frankfurt Book Fair earlier this month, with his agent Andrew Wylie taking big bids on the yet-unfinished "Bowie: Objects." According to the Wylie Agency, the book by the 63-year-old singer, who's been pretty much out of the public eye since heart surgery in 2004, will be "the first in a series by the pop icon in which he explores his creative process by featuring 100 things from his archive."
The Bowie bidding war in Frankfurt comes as no surprise to one of modern rock's legendary chroniclers.
"The love affair with rock 'n' roll is so deep in our society now, the outsiders have become the mainstream — but we still want to live vicariously through them and their bad behavior," says photographer Mick Rock, who shot album covers for Bowie, Joan Jett, Queen, Lou Reed among others and whose "Exposed" with photos of Bowie and Lady Gaga just came out,
More along the lines of such bad behavior, Frankfurt also saw WME selling U.S. and U.K. rights to Billy Idol's "Dancing With Myself" at the book fair. The memoir by the 1980s Top 40 punk is scheduled to come out in late 2011 or early 2012.
Also coming soon: Jay-Z's rags-to-rap riches memoir "Decoded" is coming out on Nov. 16. And one of rock's original wild boys, the Killer, Jerry Lee Lewis, has a memoir coming out in the next two years from ItBooks, an imprint of HarperCollins.
Then again sometimes, like with music, it's really all about timing — he might have more pimples than warts, but even Justin Bieber, who is only 16, has a memoir … and it was in the top 30 on Amazon's Top 100.