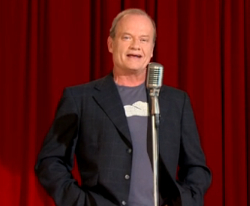 Question: What do you get when you cross Kelsey Grammer, jungle animals, politics and a smooth jazz soundtrack?
Answer: A ridiculous video promoting the launch of Rightnetwork.
Grammer is a Rightnetwork spokesman. He's also an investor in the online and video-on-demand conservative entertainment channel. Grammer and his stunning lack of self-awareness were featured in a promo clip that announced the launch of the site Wednesday.
"Today, we step forward get the party started … because that's how we roll, like a powerful elephant and a nimble gazelle combo — a gazelephant. We step forward like a gazelephant," Grammer said.
The whole "gazelephant" thing makes it hard to take Rightnetwork seriously as a substantive entrant into the political discourse. Also, a man of Grammer's age should not use the phrase "that's how we roll." Ever.
But don't solely blame Grammer for the "gazelephant" — that's the official mascot of Rightnetwork.
Rightnetwork's TV offerings include "Running," a series that profiles first-time political candidates, and "Moving Numbers," a sitcom about a political campaign. Representative examples of Rightnetwork's online content include a blog post titled "Thank God for Market Capitalism" and an essay encouraging readers to take pride in the superiority of American culture.
In his video statement, Grammer promised that Rightnetwork will "offer a one way ticket out of town to pretension, posturing, Pelosi and poppycock" and will give MSNBC host Keith Olbermann "a case of the Mondays."
Grammer may want to make liberals like Olbermann miserable, but MSNBC isn't really his competition. If Rightnetwork manages to succeed, it's the execs at conservative cable network Fox News who would be feeling the pain.
However, based on Grammer's embarrassing, awkward launch presentation, I doubt any of Rightnetwork's competitors are shaking in their boots.
Watch Grammer's full Rightnetwork video below.