Kim Kardashian better stick to her day job, if the reviews out of her performance in "Tyler Perry's Temptation" are on the money.
TheWrap's movie critic Alonso Duralde called her supporting turn as assistant "nasal and awful," and that was just the start. The Hollywood Reporter's Frank Scheck said that her "monotonous line readings demonstrate that she saved her real acting talents for her sex tape."
For the record, "Temptation" over-performed for distributor Lionsgate at the box office over the weekend, bringing in $22.6 million. Whether Kardashian's presence in the film had anything to do with that is unclear, but it apparently didn't hurt the film, which itself was poorly reviewed. It has a 16 percent positive rating on Rotten Tomatoes.
Also read: Can Kim Kardashian Give 'Tyler Perry's Temptation' a Boost Like Madea?
Even the more positive reviews of Kardashian weren't so good.
The New York Times' Andy Webster called her "grating and tone deaf" and found her "entertaining for all the wrong reasons." Roger Ebert said Kim was not the "worst thing in the film" but was surprised that "someone so famous for her curves could deliver her lines so flatly."
"Temptation" follows a heated romance between the ambitious and married Judith (played by Jurnee Smollett-Bell) and Harley (Robbie Jones), a handsome social media billionaire who aggressively courts her. Kardashian plays Judith's co-worker at the high-end couple's therapy business.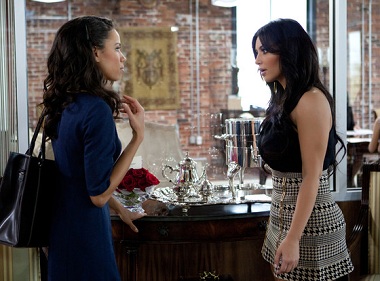 Also read: 'Temptation' Review: Tyler Perry, Even Sudsier and More Sanctimonious
The casting of Kardashian drew early fire from Perry's devoted fan base, many of whom wondered what the E! Entertainment reality star was doing in a film about marriage, given that hers to Kris Humphries lasted not quite three months.
"Y'all gave me a new movie title, 'Tyler Perry's Diary of a Mad Black Woman Cause You Hired Kim Kardashian, Don't Make Me Take Off My Earrings and Boycott Yo A**,' " Perry wrote on his website.
He defended his choice and said that he wanted more young people to hear the message of faith, forgiveness and the power of God that "Temptation" sends.