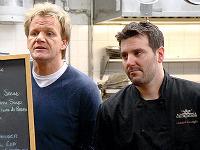 The body of a man who was once featured on realtiy TV series "Kitchen Nightmares" was found floating in New York's Hudson River, according to police.
Joseph Cerniglia of Wayne, N.J., was the chef-owner of Campania, in Fair Lawn, N.J. His body was pulled from the water Friday afternoon, the New York Daily News reported Monday.
Authorities told the paper the cause of death is under investigaton but no foul play is suspected.
Cerniglia was married and had three sons. He was featured on the Fox series starring Gordon Ramsay in 2007.