"Sons of Anarchy" creator Kurt Sutter is upping the stakes in his crusade against DirecTV — and now, it seems, his own boss, Fox.
And he says he's willling to risk firing — and arrest — if his the network continues to censor him.
Sutter appeared in an impassioned spot during Tuesday night's FX run of his show, urging viewers to petition DirecTV not to pull the network from its service.
The spot was sponsored by the network — and, charged Sutter in a blog post earlier in the week, censored by its legal team. In the post, he ran his original script.
On his Twitter account Wednesday morning, he cranked up the volume. He told "Sons of Anarchy" fans: "I've been informed by Fox legal that if I post rough cuts [of his anti-DirecTV spot] on my blog they will have me fired and arrested, so of course I still may do it…"
Locked into a dispute over carriage fees, DirecTV has threatened to pull FX and a number of other Fox Networks channels and regional sports networks off its service on Nov. 1 if a new contract can't be worked out.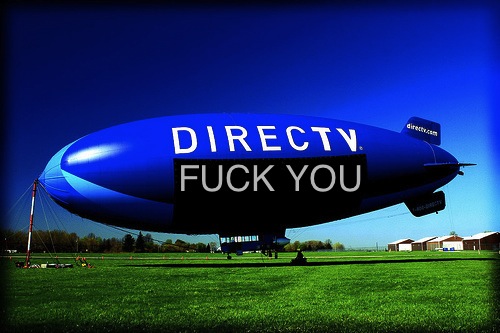 On air Tuesday, Sutter attacked the satellite company: "Starting Nov. 1, DirecTV will stop carrying FX," Sutter warned viewers in the 15-second spot that ran no less than three times Wednesday in each run of his show.
"That means, no more 'Sons of Anarchy.' The network and our show will both be off the air."
Also read: DirecTV Threatens to Pull FX, Nat Geo, Other Fox Networks Channels
His original script wasn't quite so tame. As posted on his blog — along with the photo above, if anyone failed to get his point — here's what he had planned to say:
"DIRECTV IS SHUTTING DOWN ALL CONVERSATION AND USING THEIR CUSTOMERS AS LEVERAGE," the screed reads. "IN THE PROCESS, YOU'RE GETTING FUCKED OVER. THEY'RE RUNNING ADS WITH THEIR CORPORATE SHILL TELLING YOU HOW MUCH 'THEY CARE ABOUT YOUR BUSINESS'; THAT DUDE'S GOT ONE SINCERE HAND ON HIS HEART WHILE THE OTHER GREASES YOUR UNSUSPECTING BACKSIDE. BECAUSE THEY'RE ABOUT TO FLIP YOU OVER AND FUCK YOU UP THE ASS TILL YOU BLEED."
Sutter didn't let FX off the hook, either. Acknowledging, "I am well aware that I am working for the right-handed smoking man" and that "every large entertainment company is an extension of some corporate behemoth," Sutter nonetheless cuts the cable network some slack because — duh! — they gave him a gig.
"If it weren't for [FX Network president John Landgraf]," Sutter writes, "I'd be selling star maps and handjobs in front of [West Hollywood gay bar] the Motherlode."
After encouraging viewers to visit KeepMyNets.com or call (866) Keep My Nets to "get the real story," Sutter offers his gratitude to his fans — as only he can.
"THANKS FOR THE SUPPORT, BITCHES," the script ends.
Also read: Game Over, Man! Fox Ad Ramps Up DirecTV Carriage War
As he did in 2010, when Fox Networks was involved in a similar dispute with DirecTV rival Dish Network, Sutter has been a vocal proponent of his employer.
On Monday, Sutter took to Twitter to warn viewers that they're being "fucked over" by DirecTV.
Also read: FX vs. Dish: 'Sons of Anarchy' Creator Dishes on Ratings Loss
On Tuesday, he got more official, urging "Sons of Anarchy" viewers — who had just witnessed Sutter narratively kill of popular codger "Piney" in the show — to vist www.KeepMyNets.com to bolster Fox's cause.
For their part, DirecTV has said that Fox Networks is seeking carriage-fee increases of as much as 40 percent for regional sports channels, FX, National Geographic, etc.
Upshot: "Sons" viewers who don't like $100 TV service bills might want to start a petition campaign of their own.