While many of the musical acts that Perez Hilton helped break — Lady Gaga, Katy Perry — dominated Sunday night's VMAs, the gossip blogger continued to flex his tastemaking muscle by hosting his own mega concert the night before.
He hand-picked eight cross-genre acts — everyone from Demi Lovato and Pete Wentz to Bustah Rhymes — for his and Carrera's "One Night in Los Angeles Concert" at the Wiltern. With friends like these, the one time outlier's transformation to insider is complete.
"I'll always be Perez, but what I've been doing over the last year is revealing more of my true self to the world and hiding less behind the mask of this character," Perez told TheWrap backstage.
Peeking behind the mask, Kyra Sedgwick and Kevin Bacon rocked out to Gavin DeGraw's set along the back wall of the VIP section in the front. Kevin took pictures on his phone as Kyra stomped her foot to Gavin's anthem "I Don't Want to Be." Moments after stepping off the stage, Gavin held court with his famous fans.
The recently re-emerged from counseling Demi Lovato was the most off-limits in the free flowing backstage scene. She got her own security guard outside her dressing door, but ventured out to sign a special Pop Chips guitar for the evening's beneficiary, the Gay Lesbian & Straight Education network.
Destinee and Paris are the new 17-year old and 15-year old sister duo who've been touring with Britney Spears. Backstage, they got one of their first tastes of celebrity living, hitting the Carrera dressing room for free colorful shades. All VIPs also got iPad covers, a tie in to the party that was sponsored by this year's version of "Angry Birds," the addictive "Cut the Rope" game.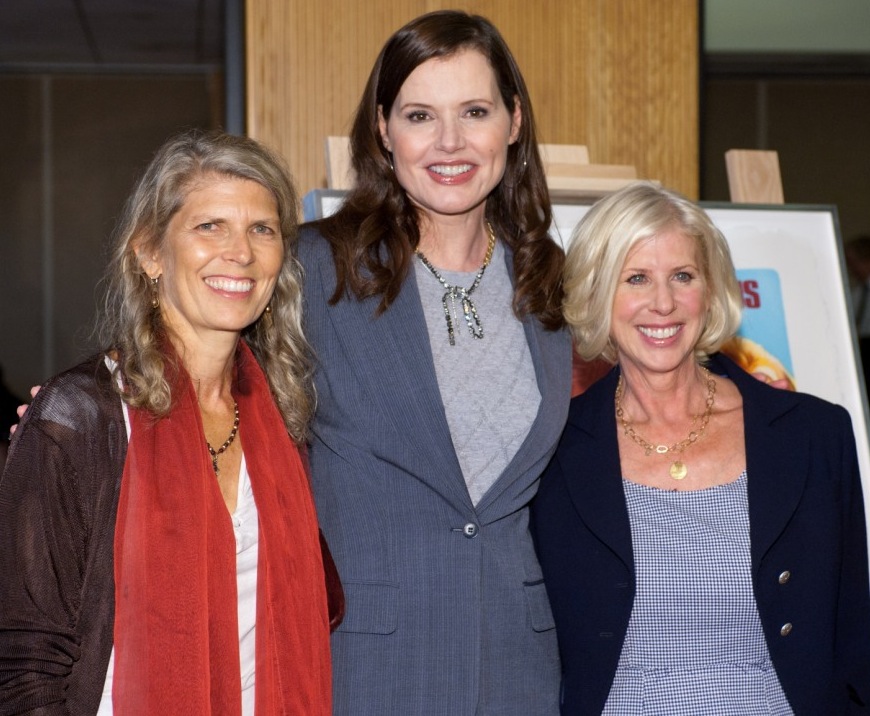 After the show on Sunday, Seth Rogen and Jonah Hill hung with the "Jersey Shore" cast at the after-party at Colony. In a show of vertical integration, DJ Pauly D was on the turntables. Nearby, Deena demonstrated the "Jersey Turnpike" dance move on both comedians.
House of Hype at the SLS drew big guns like Britney Spears and Katy Perry. The late party followed Esquire's Hot 100 dinner earlier in the night.
"Thelma and Louise" producer Mimi Polk Gitlin, Geena Davis, and Callie Khouri (who won an Oscar for this screenwriting debut) gathered at the Academy of Motion Picture Arts and Sciences in Beverly Hills before a special screening on Thursday night.
Why have the characters held up for 20 years? "Ridley (Scott) shoots the closeups at the same time. Almost nobody does with lighting or whatever, so you're both really in it. It helped a lot," Geena Davis said. (Photo by Matt Petit / ©A.M.P.A.S.)
Forget "Space Mountain": Space came to Disney this week as astronauts from the final space shuttle mission, including Rex Walheim (left) and Dough Dough Hurley (right) came to the Disney Lot in Burbank. Kids from the East Los Angeles Boys & Girls Club got the inside story on their mission as an opening act, follwed by a sneak-peek of Disney Junior's new "Mickey Mouse Clubhouse Space Adventure" special. The show premieres on Disney Channel on Sept. 12. (Photo courtesy of Disney Junior/Richard Harbaugh)