While "La La Land" has been racking up film festival trophies and notching critics honors with the 2017 Oscar race in full swing, star Ryan Gosling has yet to dance into 2016-17 awards scene, where fellow contenders Casey Affleck, Mel Gibson, Amy Adams, and the ensemble from "Moonlight" have been mingling for months.
But that changed Tuesday night at the Los Angeles premiere of the critically acclaimed musical, co-starring Emma Stone.
"This is my first day out," Gosling told TheWrap's Party Report at the event in Westwood. "I've been in Budapest for five months, so I'm a little bit out of the game."
Also Read: Ryan Gosling Appreciates Tom Hanks' 'La La Land' Love (Exclusive Video)
Director Damien Chazelle and Lionsgate's surreal romance is winning the game so far, with a leading 12 nominations heading in to Sunday's Critics Choice Awards.
Here's 7 more things seen and heard in Westwood.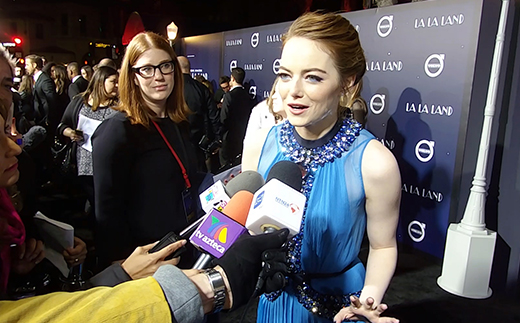 "I Thought the Ship Had Sailed"
Gosling, who plays jazz musician Sebastian, made brief remarks inside the theatre before the screening, expressing gratitude that studios will still make an original musical in a classical style.
"I thought the ship had sailed [on this genre]," he told the crowd.
Also Read: 'La La Land,' 'Arrival,' 'Moonlight' Top Critics' Choice Awards Nominations
He also joked that he had been told not to say anything in the introductions, but when he whipped out his own wireless microphone to speak, he cracked that "he brought this from home."
The Cheers Inside, The Shrieks Outside
At "La La's" AFI screening at the TCL Chinese before Thanksgiving, the audience applauded the opening freeway number, a barometer-setting spectacle prefacing the main titles. On Tuesday night in Westwood, this crowd did the same, plus more.
Within the first 10 minutes, the crowd cheered the second musical number, a neck-swiveling sprint through a girls' group house getting ready and heading out to a Hollywood party.
This followed the teen shrieks outside as Gosling arrived at the Village Theatre on Broxton Avenue, across from cookie spot Diddy Riese.
Gil Garcetti's Oscar News
Hours before the "La La" premiere, the Academy announced Ezra Edelman's nearly 8 hour doc "OJ: Made in America" as one of the 15 feature docs continuing on in the 2017 Oscar race. Former L.A. District Attorney Gil Garcetti appears in the film. Freshly back from a UNESCO photography trip to Colombia hours earlier, the Party Report broke the news to him.
"It did? I didn't even know that!," Garcetti exclaimed. "Fabulous! It was my son who talked me in to doing it. I haven't talked about that case for 21 years."
Speaking of the current mayor…
The Mayor touts "a tourism brochure".
"You can't have a better tourism brochure than this movie," L.A. mayor Eric Garcetti told The Party Report. "It highlights 60 locations. It shows that L.A. is not just about the stars. It's about the romance. It also highlights our chops as a great musical town."
On shutting down freeways for movie shoots like the one that opens "La La", Garcetti was insistent that LA is open for business.
"We shut down freeways all the time. We will do whatever people need to make sure that they can film in Los Angeles. This is where film was born, this is where film should live. Now with expanded tax credits, more (films) are coming back home too."
Also Read: New York Film Critics 2016 Winners: 'La La Land' Named Best Film
Cheryl Burke Playing Publicist for Her Sister
While "Dancing with the Stars" choreographer Cheryl Burke is not amongst the 112 dancers in the movie, she escorted her sister Nicole Wolf down the red carpet. Wolf plays a casting assistant in the movie, a role she knows well. Previously, she was a casting assistant at casting agency Zane/Pillsbury. Their credits include "Suits" and "Pretty Little Liars".
"This was one of my first auditions out of school. I just moseyed on in to the audition room," she said.
VIP Guests
"Orange is the New Black" star Jackie Cruz stoked the Spanish language media on the way in, super producer Steve Tisch strolled the carpet and stopped to pose with girlfriend Katia Francesconi, while "Moonlight's" Mahershala Ali also made the scene. Lionsgate also seated some digital influencers in the front of house, with a prime view of the opening introductions.
Some of the superlative "pull quotes" from early reviews dressed the screen before the movie began.
Producers Coping with 4 Months of Oscar Buzz
"We made a film that we love, that we're proud of, and people seem to really embrace it. It seems like the right moment for a film like this. It's gorgeous filmmaking. Everything else after that would be gravy and icing on the cake for us," said producer Mark Platt, who also won an Emmy this fall for "Grease Live!"