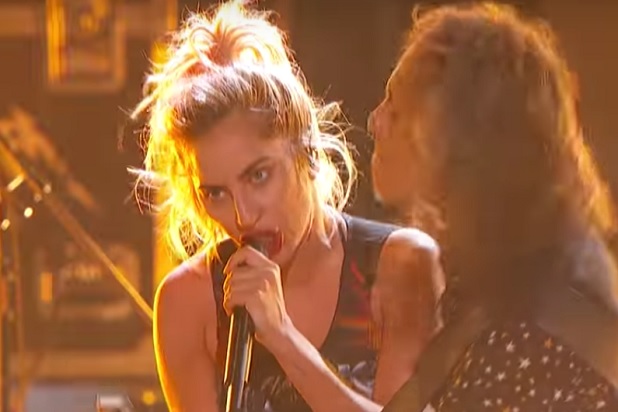 If at first you do succeed (and fail on live TV) … post video evidence of it done flawlessly.
Following a much-discussed, glitch-ridden performance with Metallica at this year's Grammys, Lady Gaga posted a video of how the performance was supposed to go, had technical gremlins not botched it up.
The video, posted on Lady Gaga's Vevo channel Friday, shows Gaga, James Hetfield, Kirk Hammett and crew tearing through "Moth Into Flames" during a dress rehearsal for the awards show.
Also Read: Metallica's James Hetfield Was 'Livid' Over Grammys Glitches, Lars Ulrich Says (Video)
And yes, they get through it issue-free.
The Grammys performance was marred by glitches that Metallica attributed to a dead microphone. Metallica drummer Lars Elrich later called the performance a "clusterf—," and said on "Late Late Show With James Corden" that Metallica frontman Hetfield was "livid" backstage after the performance.
"I haven't seen him like that in 20 years," the drummer said of Hetfield's mood backstage. "I mean, he was livid. I mean, he's aged really well and he's a pretty chill guy, but the first five or 10 minutes in that dressing room was not a lot of fun."
Also Read: Metallica's Grammys Duet With Lady Gaga Was a 'Clusterf--,' Lars Ulrich Says (Audio)
Longtime Grammys producer Ken Ehlrich offered an apology to the band in an interview with the Associated Press, saying that the glitch was "awful."
"My guys say that the mic cable was connected," Ehrlich added. "My guys' theory was that … one of the extras (on stage) accidentally kicked out the cable that went to the mic."
Watch the perfect rehearsal version of the musical collaboration below.