Part one of a three-part series on Lady Gaga
EXCLUSIVE
It isn't just Lady Gaga's sophomore studio album on the line when she drops her highly anticipated "Born This Way" on May 23.
The rebirth of the music industry could also rest on its success.
"Born This Way" is the leading edge of the so-called 360-deal — a fledgling music industry business model that cuts record companies in on all of pop stars' spoils, well beyond mere music sales.
So far, for Universal Music Group's Interscope Records, Gaga's 360 deal has been an extraordinarily enriching bet, given her mega musical success, sell-out worldwide touring, merchandising bonanza and sizzling appeal to such marketers as Polaroid, Estee Lauder's MAC, Sprint's Virgin Mobile USA and fragrance giant Coty.
Also read From Printers to Perfume: The Selling of Lady Gaga 
In fact the multitalented Gaga has generated almost $200 million in revenue for Interscope as a result of the 360 pact, according to executives familiar with the numbers.
By any measure, that is a staggering number for a record company in a music industry struggling for survival. And only about half of that is from music sales.
What's next? Google trotted out her latest alliance in a splashy television ad on Saturday night  touting the tech giant's Chrome browser.
An executive with knowledge of the deal says that Gaga is also negotiating to be the face of Google's highly-anticipated Chrome laptop, due out June 15.
The arrangement could fetch her as much as $10 million, with Interscope entitled to a share of that. Gaga, her representatives and the search giant have met several times now on the potential deal, the executive tells TheWrap.
Roughly half of Interscope's $200 million is from music sales. Gaga's debut in October 2008, "The Fame," has sold more than 12 million worldwide, almost half in the U.S.  At 5.8 million copies, her second major release — the extended-play release "The Fame Monster," in November 2009 — topped 2010's United World Chart of best-sellers compiled by Media Traffic, a German website.
She's had eight number-one hits, and the Monster Ball Tour, which kicked off in late 2009, is minting a fortune in ticket sales —  $227.4 million by the beginning of May, with an audience of 2.5 million, Billboard estimates.
By Forbes estimates, meanwhile, Gaga earned $92 million of personal income in the 12 months since May 1, 2010.
Watch Lady Gaga, Justin Timberlake, Andy Samberg Have a 'Three-Way' on SNL
In 2007, when Interscope signed her, 360 deals were becoming standard for new artists as the shrinking music industry scrambled for new revenues to replace billions of dollars in declining CD sales and losses from online piracy.
"There's not yet a lot of brand new 360 artists who've exploded," notes a top industry consultant who didn't want to be identified because of confidentiality demanded by clients. "There just hasn't been a sufficient gestation period to produce more Gagas."
So now, as the century's most momentous breakout artist, this cross between a supernova and a peacock is the music industry's first real and authentic prospect for realizing the grandest financial scale imaginable that 360 deals envision.
"We have it all with Lady Gaga," Jimmy Iovine, chairman of Universal Music Group's Interscope-Geffen-A&M label amalgam confirmed in 2008.
What is "all"?
In the mobile telecom market, she's in with Sprint's Virgin Mobile USA, which offers prepaid plans and gear. Through Estee Lauder's M.A.C. subsidiary, she's channeling into the competitive multi-billion dollar cosmetics industry (pictured, above right), and apparently already is having a notable financial impact.
Some three to four percent of Estee Lauder's 2010 growth would result from the company's association with Lady Gaga, Group President John Dempsey predicted to Financial Times in March, 2010. A company spokeswoman declined to confirm whether the forecast materialized.
And coming next year from Coty Inc. is a Gaga fragrance. "I took a sample of my own blood and extracted the molecular structure scent of that and injected it in to the perfume so that it would smell and feel like me," she said in a taped interview.
Typically, celebrities collect an industry standard five to 10 percent of fragrance sales, and sometimes fetch a signing bonus as well.
Gaga already has success with "Heartbeats by Lady Gaga." Her take on in-ear headphones (which cost $150 a pair) puts Gaga in a separate business with Iovine and Interscope producer/rapper Dr. Dre, who jointly control Beats Electronics, which markets celebrity headphones called Diddybeats.
There even could be riches from reviving nearly extinct Polaroid.
After moonlighting for 16 months as Polaroid's "Creative Director," Lady Gaga will hatch her first release from the iconic but faded photography brand. TheWrap has learned that the "GL10 Instant Mobile Printer" (priced at $170) and 30 sheets of paper ($19.99) will be available at Bloomingdale's.
And, more importantly, arriving just in time for the year-end holiday shopping season, Polaroid will ship Gaga co-designed camera glasses and a digital camera.
Through Robert Brunner, Lady Gaga's product-design collaborator who founded design firm Ammunition, Gaga channeled her passion and ideas about technology, sharing, imagery and fashion into the Polaroid work. So from brainstormed conception to such final details as finishes (brushed metal and textured surfaces with leather accents), the design of the printer is Gaga — "real and authentic," Brunner says.
That's unlike, say, Britney Cologne, which, Brunner sneers, "Everyoby knows is bulls—."
If Gaga "is pure to her point of view, she can translate organically to other areas that her audiences can travel along with her," says Van Toffler, president of MTV.
Gaga's coterie of legal, financial, PR and career advisers rebuffed TheWrap's repeated overtures for interviews. On the eve of "Born This Way," Team Gaga and the Lady are steadfastly positioning her as an artist, not a businesswoman.
"She is mainly focusing on music press," Amanda Silverman, her high-powered publicist, curtly explained in an email. "This is a business story."
Of course, there's a good reason to focus on the music.
No sophomore studio release in recent decades has been potentially more consequential to a career — or the industry. Most relevant is "Like a Virgin," which confirmed Madonna's ascendency as an iconic cultural force when it was released in 1984, two years before the birth of Stefani Joanne Angelina Germanotta — aka Lady Gaga.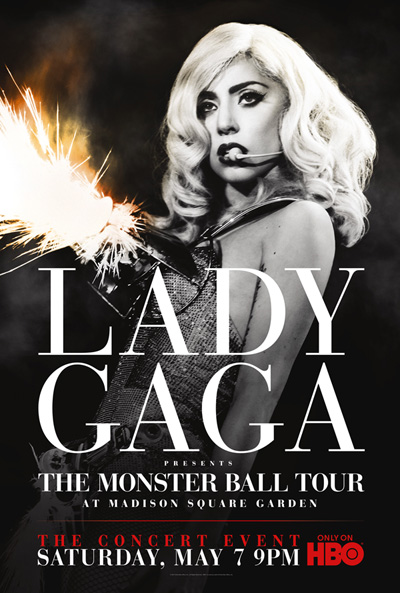 And sales of "Born This Way" will be a critical next gauge of whether Gaga's "little monsters" — the 10 million  followers who devour her every tweet, the 33 million Facebook friends — will affirm her as a timeless icon like Madonna — or a flash in the pan who leaves the 360 model in smolders.
Given the stakes, no wonder "Born This Way" may be focus of the industry's most ubiquitous rollout in recent memory. There was the HBO concert special of her hometown Monster Ball Tour date at Madison Square Garden. She also penned a fashion column for uber-hip V Magazine this month, and showed up on "American Idol" last week to mentor the Top  4 finalists.
Digital-game publisher Zynga is welcoming her virtual incarnation to its enormously popular property, FarmVille, in a joint promotion of "Born This Way." Her nipples shielded by crisscrossed band-aids, Gaga turned up dressed in the sheerest sheath for a photo op in Mexico.
And four days her album drops, Gaga pops into Central Park to headline the kickoff of "Good Morning America's" summer concert series.
Still, there's already a faint sound of alarm.
Noting that "Judas," the second single from "Born This Way" had stalled on the charts, industry bible Billboard magazine surmised early this month that the upcoming album's first-week sales projections "have certainly been lowered" — from a hyped one million and even a more plausible 750,000.
Yet, ironically, no one seems more disingenuous about the nexus of commerce and artistry than music's great 360 hope herself.
In the May cover story, Gaga told Harper's Bazaar: "What means something to me is my music. I don't want to make money; I want to make a difference."
She is, it appears, excelling at what she claims she doesn't want.