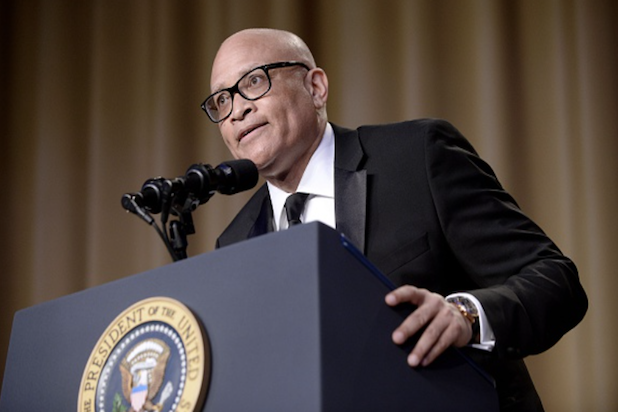 Larry Wilmore has been criticized for using the N-word to address President Obama during his White House Correspondents' Dinner speech, but he wants to make sure people know which version of the controversial word he used.
Piers Morgan, who Wilmore called a "professional Beyoncé disliker" on his Comedy Central show Monday, tweeted that "Larry Wilmore calling President Obama a "n—er" made the whole world cringe."
The "Nightly Show" host explained that he said "n–ga," and Morgan needs to properly conjugate.
Also Read: President Obama Is Cool With Larry Wilmore Calling Him The N-Word
"Are you saying I called the president a n—er? OK, that's horrible. I would never do that. I believe I said, 'Yo Barry you did it my n–ga.' There is a difference," Wilmore explained. "Piers, you did not properly conjugate that slur."
Wilmore went on to explain the differences between the two versions of the racially charged word.
See Morgan's Twitter reaction below, then watch Wilmore's rebuttal to find out why one version of the word is more acceptable than the other.
Get rid of the N-word, America.
Larry Wilmore calling President Obama a "n****er" made the whole world cringe.
Expunge it now, forever.

— Piers Morgan (@piersmorgan) May 2, 2016
Rev Al Sharpton agrees with me…..is he also an idiot who doesn't understand what the N-word means? https://t.co/EOUEebKgPU

— Piers Morgan (@piersmorgan) May 3, 2016
I don't need a history lesson to tell me that the N-word – 'n***er' or 'n*gga' – is wrong. https://t.co/I92JWdBUf2

— Piers Morgan (@piersmorgan) May 3, 2016
I don't think either variant should be used. Period. https://t.co/QaxGRqak6z

— Piers Morgan (@piersmorgan) May 3, 2016
Actually, you should just stop using the slur at all, Mr Wilmore – especially to the President. https://t.co/0B4qQa38GZ

— Piers Morgan (@piersmorgan) May 3, 2016