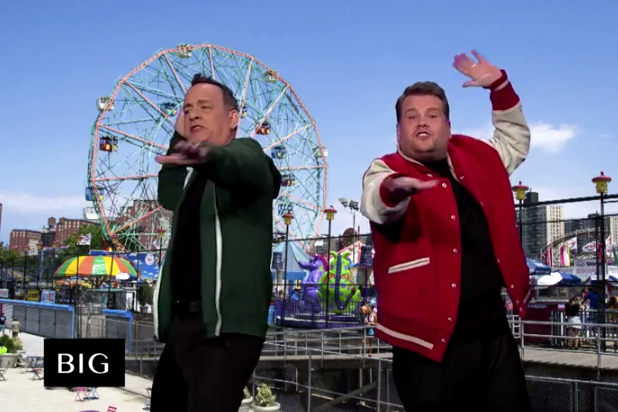 James Corden helped Tom Hanks reenact every one of his movies in less than seven minutes in an impressive start to the new "Late Late Show" on Monday.
Hanks, Corden's first guest, was game and great in going through a ton of classic comedies and dramas. The live-to-tape segment opened with "Forrest Gump" and closed with all three "Toy Story" movies. While there were many great moments throughout, the "Big" scene may have been the best of all.
Playing opposite the beloved leading man, Corden took on everyone from Meg Ryan to cop-dog Hooch, to Meg Ryan again. It's worth a watch.
Also Read: 'Late Late Show With James Corden' Premiere Review: Impressive First Outing Will Make You Smile
Also on the premiere show, Corden and Hanks pulled some marital news out of Mila Kunis, who apparently tied the knot with longterm boyfriend Ashton Kutcher sometime recently. Watch the blushing (with embarrassment) bride flash the ring here.