"The Lazarus Effect" will provide chills for horror movie fans when it hits theaters Friday, but it's the Jason Blum Effect that will thrill Hollywood executives who focus on bottom lines.
That's the effect where you make a pot of money at the box office on movies that cost next to nothing. It has worked on horror movies like "Paranormal Activity," "The Purge" and "Insidious" from the producer's Blumhouse Productions in past years, and more recently on "Ouija" and "The Boy Next Door" for Universal Pictures, where Blum has a production deal.
Relativity Studios will test the theory this weekend with "The Lazarus Effect," which stars Olivia Wilde and Mark Duplass as researchers whose work to bring the dead back to life goes horribly wrong.
"Lazarus" should scare up around $14 million, say analysts, who see the Will Smith-Margot Robbie con-man comedy "Focus" ending the two-week reign of "Fifty Shades of Grey" at No. 1 by grossing north of $20 million for Warner Bros. Relativity is more conservative and sees "Lazarus" opening in line with tracking at $12 million-$14 million.
---
Also Read: 10 Moments to Remember From a Wild and Weird Awards Season
---
A $14 million opening would be fine with Relativity, since its business model isn't built on movies that top the box office. Instead, it banks on turning low-budget films, often horror movies, into moderate hits. "The Lazarus Effect," which was made for $5 million and acquired by Relativity for $3.3 million, fits that template.
For the record, the Blum biz model has its limits. Short on costly special effects, the movies rarely play well overseas. They fade quickly, too: A couple of "Paranormal Activity" sequels are the only two of 20 Blum-produced releases to top $100 million domestically.
But oh, those profit margins.
"The Purge" for example, grossed $89 million on a $3 million budget. "Insidious," made for $1.5 million, grossed $97 million. "Sinister"cost $3 million to make and took in $78 million. You get the idea.
David Gelb directed "The Lazarus Effect," which was written by Luke Dawson ("Shutter") and Jeremy Slater (the upcoming "The Fantastic Four"). Jimmy Miller and Cody Zweig produced along with Blum. Matt Kaplan, Jeanette Brill, Luke Dawson and Gloria Fan serve as executive producers.
The R-rated comedy "Focus," a $55 million production, is a more traditional release from Warner Bros.
It has high-profile lead actors in Smith and Robbie, a well-known writer-director team in Glenn Ficarra and John Requa ("Crazy, Stupid, Love"), an international setting and the potential to be a global hit.
"Focus" provides the opportunity for a rebound at the box office for Smith, last seen on the big screen in the pricey 2012 sci-fi bomb "After Earth," and a launch pad for Robbie, whose career seems poised to break out after her memorable turn in "The Wolf of Wall Street."
---
Also Read: 'Focus' Gives Will Smith New Direction, Shot at Box Office Rebound
---
They weren't the first choices for this tale of an aging con man who becomes involved with a younger, attractive rival. Ryan Gosling and Emma Stone were at one time attached to the project, and later it was Ben Affleck and Kristen Stewart.
The critics have "Focus" at 56 percent positive on Rotten Tomatoes, and it was leading advance sales at online ticket broker Fandango on Wednesday.
It will be in roughly 2,500 theaters in the U.S., as well as rolling out in several overseas markets, where Smith's box-office clout remains considerable. International will be key to its profitability.
The box-office wild card this weekend is the Best Picture Oscar winner "Birdman."
Fox Searchlight has the quirky black comedy back on about 1,000 screens, even though it's been in theaters since October and is available on DVD and On-Demand.
---
Also Read: Best Picture 'Birdman' Flying Back to 1,000 Theaters (Exclusive)
---
Alejandro G. Inarritu collected the Best Director Oscar for "Birdman," which stars Michael Keaton as an aging actor trying to stage a career-saving Broadway show years after turning his back on the lucrative superhero role for which he is best known. Edward Norton, Emma Stone and Zach Galifianakis co-star in the film, for which Inarritu and three co-writers also received the Best Original Screenplay Oscar.
Oscars 2015 Winners: 'Birdman,' 'Grand Budapest,' Eddie Remayne, Julianne Moore (Photos)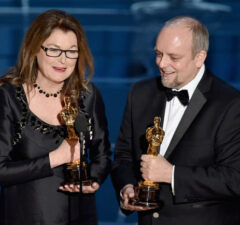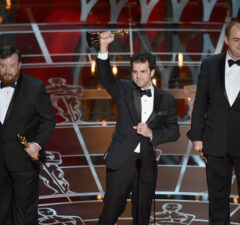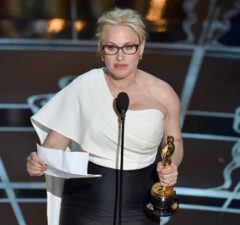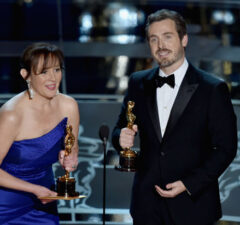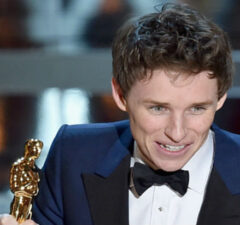 (Tap photo and swipe to view gallery)