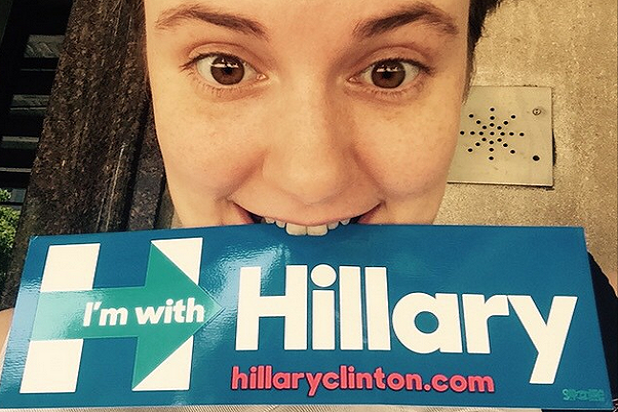 Way to sink your teeth into politics, Lena Dunham.
Dunham, the star of HBO's "Girls," made her preferences in the 2016 presidential election known on Friday, posting a photo on Instagram with a Hillary Clinton campaign bumper sticker.
To be precise, the sticker was gripped between her pearly whites. Must have been tasty.
Also Read: New Yorker Defends Lena Dunham's Controversial 'Dog or Jewish Boyfriend?' Article
"Had the pleasure of visiting campaign headquarters in my very own Brooklyn!" Dunham wrote. "Didn't find the grande dame herself but this bumper sticker is pretty dope… "
"Getting excited," Dunham added.
Comments from Dunham's followers were mixed ranging from an enthusiastic, "hell yeah" to a presumably disappointed "I thought you were a progressive…"
Also Read: Lena Dunham Breaks Silence Over 'Barry One' Rape Allegations in New Op-Ed
Former First Lady and Secretary of State Clinton launched her campaign in April.
"I'm running for president," Clinton said in a short video about the campaign posted on YouTube. "I'm hitting the road to earn your vote."