Man the barricades, musical fans — "Les Miserables" is coming to the big screen.
Universal is offered the first look at the film adaptation of the Tony-winning stage triumph. And from the look of things, director Tom Hooper has done a meticulous job of capturing the grit and grime of 19th-century France. "Chicago" it decidedly is not.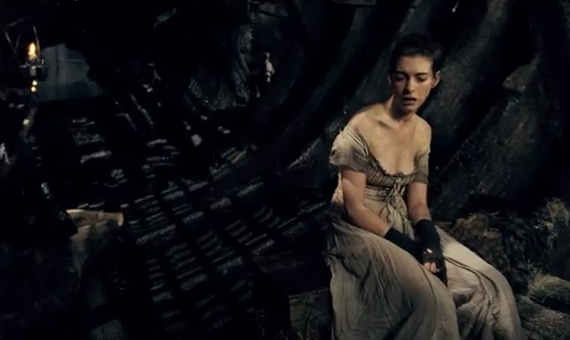 It also sounds like Susan Boyle may need to find a new signature song. The preview for the movie musical is set to Anne Hathaway performing her own pared-down rendition of "I Dreamed a Dream," the anthem that launched Boyle's career.
Also read: Hugh Jackman, Russell Crowe Preview 'Les Miserables'
At a preview for theater owners at CinemaCon last April, Universal Pictures Chairman Adam Fogelson said that Hooper hoped to capture most of the singing on set, instead of having his actors record their songs in a studio after the fact. He hinted that had happened with Hathaway's rendition.
In addition to showcasing Hathaway's vocals, the teaser includes quick glimpses of stars Hugh Jackman, playing Jean Valjean as both convict and reformed businessman; Russell Crowe as the vengeful Inspector Javert; Amanda Seyfried as a luminous looking Cosette; and Eddie Redmayne as Marius.
However, there's no hint of what Sacha Baron Cohen has planned for his role as the scene-stealing innkeeper Thénardier.
What do you think — can the movie live up to the Broadway show?