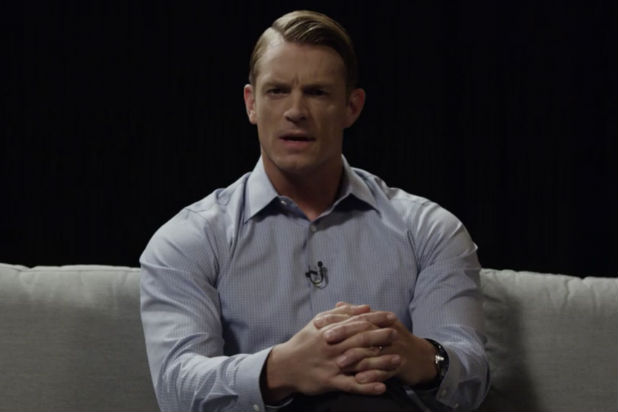 Anybody notice how jacked Joel Kinnaman is this year on "House of Cards"?
You may have missed this in all the narrative insanity of the new season, but it doesn't change the fact that Kinnaman's character Will Conway is at least twice the size from since last we saw him.
In Season 4 of the Netflix hit, Republican presidential candidate Conway was out on the stump tweeting happily as the Underwoods (Kevin Spacey and Robin Wright) plotted his demise in the race for the White House. Come Season 5, he's practically bursting out of his Brooks Brothers suits.
Also Read: 'House of Cards' Revisits Frank Underwood's Sexuality (And It's a Huge Liability)
"He did have a lot of projects in and out, but he's probably the most fit presidential candidate ever," co-showrunner Melissa James Gibson told TheWrap of Conway's size change.
Chronologically, Kinnaman would have arrived to the "Cards" set directly from shooting Warner Bros. "Suicide Squad," where he played the beefed-up Rick Flag.
"We were fortunate how it played out for us, it was great," Gibson's colleague Frank Pugliese added. "He has a stature and a presence to him. If the Underwoods take him down, they're chopping down a big tree."
But the bigger they are the harder they fall.
[Warning: the rest of this post contains spoilers from "House of Cards" Season 5].
Also Read: 'House of Cards': Yup, Claire Underwood Finally Breaks the Fourth Wall
The Underwoods indeed chop down the Conway tree — and steal the general election from beneath him and his ambitious wife Hannah (Dominique McElligott). Over several excruciating episodes, Conway unravels over the possibility that he would not fulfill his destiny and become president.
"'House of Cards' is very corrupting, and this storyline is one of the most explicit examples of that. In 'House of Cards,' the price you pay for power is a piece of your humanity," Pugliese said.
"Well, it's hubris. Their ambition has authored their demise, and their big cost has been their marriage — which is something we used to view as stronger and rosier," Gibson added.
Kinnaman is on to rosier pastures now that he's no longer presidential material (but you never know when people might come back to taunt the duplicitous Underwoods). He'll next star in the prison mob drama "Three Seconds" with Rosamund Pike and Clive Owen.