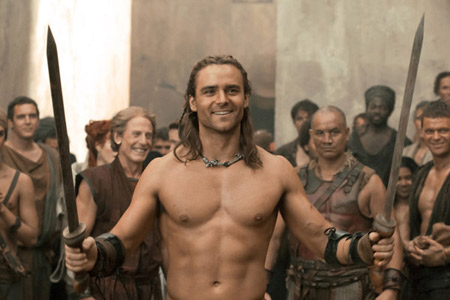 Liberty Media reported a big jump in quarterly profit for its Starz channel on Monday, as the John Malone-led company reported double-digit overall profit for 2010.
Liberty's Starz group saw a 33 percent increase in fourth quarter revenue (to $405 million) and 11 percent (to $1.3 billion) for the full year. Adjusted profit jumped 43 percent (to $106 million) during the quarter, and 7 percent (to $401 million) for the year.
The company attributed the solid performance to increased subscriptions for Starz (up 8 percent) and Encore (up 7 percent) in the fourth quarter, as well as "ancillary revenues" related to "Spartacus: Blood and Sand" -- which has become an important franchise for Liberty.
"We are excited for 2011, our first year with a full slate of original programming," Starz president Chris Albrecht, the former HBO president, said in a release. "The 'Spartacus: Gods of the Arena' prequel showed the continued vitality of the franchise, with even stronger viewership than 'Spartacus: Blood and Sand' achieved last year. We were also very pleased with the multi-year, multi-platform distribution agreement announced last month with The Weinstein Group. This deal leverages the sales and distribution infrastructure already in place with Anchor Bay Entertainment."
Liberty's QVC network also saw quarterly gains.
In addition, the company announced that it acquired 1.8 million shares of Live Nation in February, and plans to purchase 5.5 million more (subject to Live Nation shareholder approval) -- a move that would increase Liberty's stake in Live Nation to 21 percent.