Lindsay Lohan, the actress better known for disorganized crime than the organized stuff, won't, as it turns out, star in the mob movie "Gotti: Three Generations."
The actress, who's facing felony grand theft charges after being accused of stealing a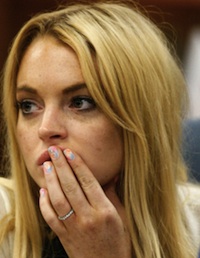 necklace from a jewelry store, had been in talks to play Victoria Gotti in the biopic.
On Wednesday, producer Marc Fiore said the talks were over and the actress is out.
Also read: Director Nick Cassavetes Pulls Out of Gotti Biopic
The Gottis and the Lohans are acquainted, Fiore's spokesman told TheWrap. And Victoria Gotti (below) and Lindsay Lohan (right) resemble each other.
Lohan even showed up at a press conference announcing the movie last week, fueling speculation she'd be in the film.
But Fiore apparently found negotiating with the actress frustrating.
"I will only ride a merry-go-round with my kids," he told TMZ.
Meanwhile, the picture is in flux: Its director, Nick Cassavetes, exited earlier this week after a scheduling conflict arose.
But it still has star power. John Travolta will play the late head of the Gambino crime family and Joe Pesci will play a lower-tier mobster.
The movie focuses on the head of the Gambino crime family, and his relationship with his son, John Gotti Jr., who became a "made man" when he was 24.
The younger Gotti ultimately decided to leave the organized-crime business.
Production is expected to begin in the fall with a release date late in 2012.
ICM signed on as worldwide sales agent.