Lindsay Lohan is in trouble with the law again, this time over a $2,500 necklace.
The Los Angeles Police Department, TheWrap has learned, has handed over its investigation into whether the "Mean Girls" actress stole jewelry from a Venice, Calif. store to the Los Angeles District Attorney's office.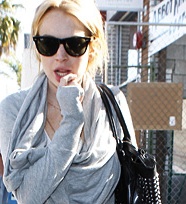 "The police brought in a report before noon," L.A. D.A. spokesperson Sandi Gibbons told TheWrap. "We will be reviewing it. I do not anticipate any further action today."
The store alleges that Lohan, who has been living in the Venice area since getting out of the Betty Ford Center in early January, took the necklace on Jan. 22.
The owner saw video of Lindsay wearing the necklace on Jan. 30 and reported the matter to police. LAPD got a search warrant late Tuesday to go into Lohan's nearby residence to look for the necklace and other material related to what is turning into a possible grand theft charge.
TMZ reports Lindsay saying that the necklace was loaned to her and mistakenly not returned by her stylist. It was dropped off, Radar Online says, at a police station by a friend of Lohan's at 8:30 p.m. Tuesday evening.
Attempts by TheWrap to reach Shawn Chapmen Holley, Lohan's long time lawyer, were not returned immediately.
However, an individual close to the actress' camp did tell TheWrap that "Charlie Sheen is in rehab and Lindsay feels that the media is bored, and they're turning the spotlight back on her to get a story."
Similar to the "Two and a Half Men" star, who entered rehab for the latest time on Jan. 28, Lohan has had a year of court appearances and treatment program stints, as well as a series of personal and professional fiascos.
All of this drama has left her career in apparent tatters.
Dropped from her lead role in the Linda Lovelace biopic "Inferno" late last year, Lohan's only real onscreen success recently has been in what was little more than an extended cameo in Robert Rodriguez's "Machete," which came out last summer.
This latest run-in with the law could see Lohan — who the Riverside County D.A. is still considering charging with battery from a run-in with a staff member while the tabloid fixture actress was at the Betty Ford — back behind bars.
Elden Fox, the latest judge in the ongoing saga of Lohan's 2007 DUI case and subsequent probation, didn't put her in jail after she failed a mandatory random drug test in October.
However, the L.A. Superior Court Judge did tell Lohan, even as the actress entered Betty Ford for three months, that he would put her behind bars for six months if she violated her probation again or ran afoul of the law again. Lohan, who has been to jail three times in connection with her 2007 DUI case, is expected back before Judge Fox for a probationary progress hearing on Feb. 25.