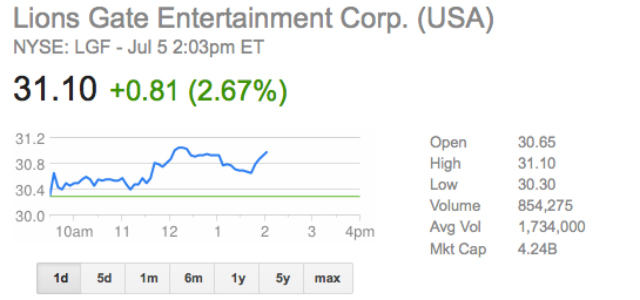 Lionsgate stock hit an all-time high on the New York Stock Exchange shortly after 2 p.m. on Friday.
Lionsgate Entertainment Corp. (LGF) reached $31.10 per share briefly, it's higher ever trading value. The high was an increase of 81 cents per share, or 2.67 percent.
The stock previously closed at $30.29, but has been as low as $12.75 in the past 52-week period.
Also read: 'Mad Men' Lawsuit: Lionsgate Invokes 1st Amendment in Opening-Credits Clash
The Vancouver-based independent studio has seen its stock rising over the past year as shareholders look to future profits from its "Hunger Games" franchise. On the TV side, the Lionsgate series "Orange Is the New Black" is set to premiere on Netflix in July.
The stock price will continue to fluctuate until the NYSE closes at 4 p.m. ET.