"Californication" might have been overlooked in the Golden Globes' best comedy category, but the Showtime series can take comfort in another honor at least as prestigious.
Celebrity nudie aggregator Mr. Skin has put David Duchovny's co-star Eva Amurri at the top of its annual list of best celebrity nude scenes.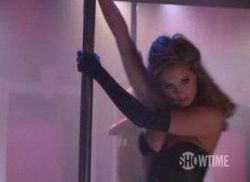 The actress — the daughter of Susan Sarandon — earned the prize by stripping in an episode of the series that aired earlier this fall. (NFSW video is
here
.)
Not surprisingly, "Californication" isn't the only premium cable series getting some exposure from Mr. Skin.
Anna Paquin, who did get a Globes nomination today, gets some love for her clothes-less work in HBO's "True Blood." And Alanna Ubach is handed props for her nakedness in the same network's "Hung" (sorry, Thomas Jane.)
The other seven entries on the top 10 list all come from the film world or were released straight-to-DVD.
"Flight of the Conchords" fans, however, will be happy to know that Rachel Blanchard lands on Mr. Skin's radar, coming in No. 5 for her fully monty in the little-seen "Spread." Blanchard played the gal-pal of both leads in "Conchords."
Here's the full top 10:
1. Eva Amurri, "Californication"
2. Jessica Biel, "Powder Blue"
3. Amber Heard, "The Informers"
4. Anna Paquin, "True Blood"
5. Rachel Blanchard, "Spread"
6. Betsy Rue, "My Bloody Valentine 3-D"
7. Alice Eve, "Crossing Over"
8. Julianna Guill, "Friday the 13th"
9. Alanna Ubach, "Hung"
10. Malin Akerman, "Watchmen"