"Good morning, you are cordially invited to the wedding of the century," Matt Lauer said at the top of the "Today" show at 4 a.m. (ET). "Equal parts fairy tale, royal pageant, and love story. A romantic dream fulfilled for a young couple, a nation and billions around the world. Security is tight, anticipation is high, and London is decked out in its best bunting."
With that, American viewers were welcomed into what the media has been telling them for months they should've been salivating over: The Royal Wedding of Prince William and Kate Middleton. And for once, it was an event that lived up to the media hype.
"It's a bit like watching the Oscars," Piers Morgan said on CNN.
"It's a boisterous, almost giddy crowd, you guys," NBC's Ann Curry reported on the "Today" show. She was talking about the million people gathered in London to watch the procession, though she could've been talking about the media itself.
"The excitement is absolutely palpable," said CNN's Becky Anderson, who was absolutely screaming.
Morgan, anchoring the cable network's coverage alongside Anderson Cooper, was in hog heaven, providing streaming anecdotes about the guests — like David and Victoria Beckham — arriving some two hours early at Westminster Abbey. "I'm loving every second of this, aren't you?"
Given the onslaught we've been subjected to by the U.S. media, particularly in the last week, it felt more like a Royal reality show than news event, with the entire world tuning in. The season finale of "William & Kate Plus 2 Billion" — — replete with hats, hashtags and that adorably cranky bridesmaid.
Also read: Media Braces for a Wild Weekend of News
Speaking of Twitter, social media played perhaps the most useful role in consuming the Royal Wedding as a live commentary track for users who — at least in my Twitter stream — got funnier with each passing Bentley. At one point, ABC News reported "Royal Wedding" was generating 6,369 tweets per minute.
But, this being the U.S. media, more than a few commentators, like those on Fox News, compared the Royal spectacle to the Super Bowl. ("See, he popped his hands, he's ready to go out to the football field and throw a touchdown pass. Dude is about to get married." That was an actual quote from someone on the Fox News broadcast whose name was not Joan Lunden.)
If the Royal Wedding was a Super Bowl, the media's lead-up — which began in November and continued right up until 6:19 a.m. when the couple exchanged their vows — was the world's longest and most excruciating pre-game show.
"It's 48, 49 degrees," Al Roker, representing the Weather Channel, reported prior to kickoff. "The weather looks like it's going to hold off." (While it was a wee bit chilly, Roker said, "everybody's got the warm feeling inside.")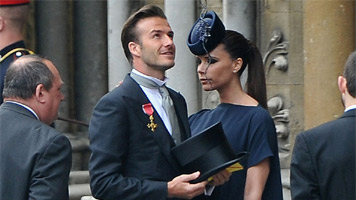 Whether it was the Royal Super Bowl for Royal Reality Show, make no mistake, it was "event TV," despite the ungodly hour Americans were forced to get up for it. Even when we were talked down to.
"I don't think an American can understand the arc of this narrative," MSNBC's Joe Scarborough said when Middleton's mother Carole, a former flight attendant, arrived.
While the running television commentary — unlike the one on Twitter — was generally positive, there was some welcomed sniping.
"I'm very fond of Fergie," Tina Brown said on ABC's "Good Morning America." "She's such a hopeless wreck."
Brown, who along with Morgan and Lunden provided the most insightful wedding commentary, was on fire. "Understated for her," Brown said of Beckham. "That's the kind of thing she goes running in."
On the first Royal Kiss, CBS' Katie Couric asked, "I don't mean to be ungrateful, but that's it?"
Elsewhere, though, it was more of the media hype-building we've seen for days now.
"The atmosphere is absolutely electric, Anderson," Becky Anderson, again screaming, told Cooper.
"We don't want to talk too much," Cooper said on CNN's broadcast, "as we know that is annoying at home." (Suffice it to say, most on TV did not heed this advice.)
But once Kate finally began her walk down the aisle inside Westminster Abbey, at 6:05, all of the network pundits and assorted "carnival barkers" — mercifully, for a few minutes — shut up.
Below, video clips of Lauer's opening, Kate's arrival, the vow exchange and balcony kiss: