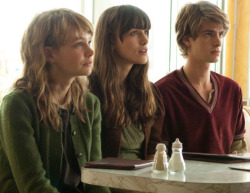 The London Film Festival unveiled its lineup Wednesday.
Gala and special screenings include Darren Aronofsky's "Black Swan," which premiered last week in Venice; Mike Leigh's "Another Year"; Cannes Palme D'Or winner "Uncle Boonmee Who Can Recall His Past Lives"; "Conviction," starring Hilary Swank; Julian Schnabel's Palestinian drama "Miral"; and "The King's Speech," starring Colin Firth as King George VI.
George Clooney starrer "The American," this past weekend's box office topper, is also on the program, as is newly announced Oscar honoree Jean-Luc Godard with his latest, "Film Socialisme."
As previously announced, two British films — Mark Romanek's "Never Let Me Go" and Danny Boyle's "127 Hours" — will open and close the fest respectively. In total, 197 features and 112 shorts will screen during the two-week run.
The fest, in its 54th year, will run Oct. 13-28. Awards will be handed out Oct. 27; the short list of qualifiers will be unveiled Sept. 28.