Look closer at those Vegas nightclub billboards towering over Sunset Boulevard and other major arteries in L.A.
What do you see? Or in the case of this one, for the new Intrigue at the Wynn, what don't you see?
I'll give you a hint. Check out this one for the same property.
As opposed to other Sin City clubs that tout DJ Snake, as well as household names like Avicii, David Guetta, Diplo and Skrillex — all residents at the Wynn's nightlife portfolio of XS, Encore Beach Club and Surrender — the fresh out of the box Intrigue, christened by One Direction's Louis Tomlinson, Kate Hudson, Vanessa Hudgens, and Michael B. Jordan on Friday night, is not a DJ-centric venue.
Also Read: 'Jason Bourne' Tears Up Las Vegas Strip in First Look From Universal
I had no idea who the DJ was during the first few hours, a departure from what Wynn executives call "the concert model" that is the modern overlay for Vegas nightlife.
Bad news for you, Instagram models. There is an 85-person inner sanctum with a one-way mirror looking out on the club with personal lockers dubbed a "social media-free zone." Which means when One Direction shows up, you're unlikely to see it on @CelebSightings.
In the DJ arms race that has taken over Vegas in the past six years — with only Wynn and rival Hakkasan (Calvin Harris, Tiesto, Steve Aoki, Chainsmokers) alone in the heavyweight division — Intrigue is future-proofing itself with a venue divorced from the currently dominant style of music.
Also Read: 10 Hits You Probably Didn't Know That Prince Wrote (Video)
Exhibit A: Seal will perform there in May 21, the same night that the Chainsmokers play at the next new club to open, Jewel Nightclub at Aria. Speaking to a different audience and experience, Seal tickets are $100. On Friday's opening night, it was Ne-Yo singing "She Knows" at 12:36 a.m., the hour when the bass would normally be dropping for the first time.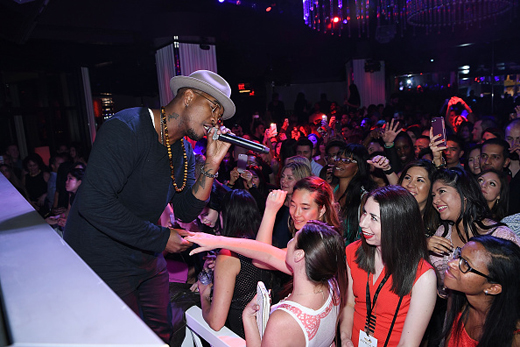 Embodying the "eclectic mix" and five-star personalized service Intrigue is touting, Diplo made an unannounced appearance — albeit in his glasses, rally cap and "final exam week" costume — five days after playing the main stage at Coachella.
The venue comes from Wynn COO Sean Christie. Christie has a track record of seeing around corners in the nightlife industry, signing Calvin Harris, Kaskade, Skrillex, and Steve Aoki to their first-ever residencies. His instincts go back to the last non-EDM era.
Also Read: Electric Daisy Carnival Weekend: 5 Insiders That Non-EDM Fans Need To Know in 2015
In the forthcoming DJ AM documentary, Christie is credited as first booking the then-L.A. local on his first promoted show at the old Light at Bellagio in the early 2000s. This was years before the late A.M. (a.k.a Adam Goldstein) would become the first million-dollar DJ in Vegas, a guest star in "Iron Man" and "Entourage," a tabloid fixture dating Nicole Richie and the first "rock star DJ."
Intrigue will hit the creative reset button monthly, changing the palette and design elements. They are counter-programming the weekend rush, opening the 1,200 person venue only on the money nights: Thursday, Friday and Saturday from 10:30 p.m. to 4 a.m.