Apple owners, once secure in the knowledge that their computers rarely get viruses, are under attack.
Screenwriters, directors and cinematographers are known to love Mac computers for their ease of use with editing images and writing software. Final Cut Pro, Final Draft and other popular programs make the Mac the laptop of choice for much of the entertainment industry.
But in the past few weeks, a set of Trojan horses has been attacking Hollywood's favorite computers in greater numbers than ever.
Here's what's been happening:
While people use the Internet, a window similar to the one below pops up on the screen warning that their computer has been scanned and that a virus has been found. In order to get rid of the virus, users are advised to click.
But it's a scam. The computer doesn't have a virus. When people click, they download malware that continues to warn them that their computers are infected — and tells them to enter credit card information so the bogus "Mac Defender" can charge to remove the malware.
People are fooled into paying for something that removes viruses that aren't there — and the criminals who tricked them into doing that get their credit card information.
"The user doesn't stop and say, 'Who scanned that?'" Dan Clark, vice president of marketing of the cybersecurity firm ESET, told TheWrap. Clark blogged about MacDefender and its second generation, MacGuard, on his company's website.
"At the end of the day, this is really the first piece of malware on the Mac platform that's been visual to the community," he said. "The reality is, this isn't the end of the world and the Mac is still a great platform."
Earlier this week, Apple said it would issue a software update to automatically remove Mac Defender malware. It also explained how to remove the malware from Macs.
It's quite a switch for a company that in 2006 ran commercials pointing out that their devices were virus-free.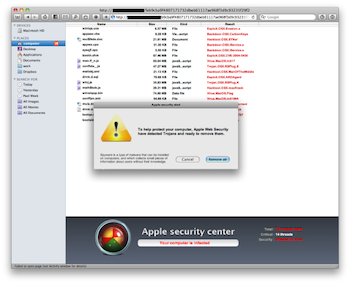 "Mac users have been lulled into a false sense of thinking their machines are immune from this kind of attack," Leander Kahney, editor and publisher of cultofmac.com, told TheWrap Thursday. "And now it's being targeted. That's the most significant thing about it — that the malware authors are now looking at the Mac audience."
He said that Apples haven't been spared because they're invulnerable. Rather he said the company had such a small share of the overall computer market, it didn't make economic sense for hackers to build malware to attack them.
Now, he said, "the Mac is growing much faster than the overall PC market," he said. "Go to the Apple stores. They're packed. People are buying not just iPhones and iPods, but they're buying Macs, too."
With more computers to target comes the potential for more attacks.