"Mad Men" star Jon Hamm had to audition seven times to nab the career-making role of suave adman Don Draper, because a network executive worried he wasn't "sexy enough," series creator Matt Weiner reveals during the May 14 episode of Bravo's "Inside the Actors Studio."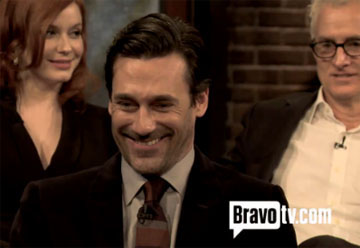 Seven "Mad Men" cast members — Jon Hamm, January Jones, Vincent Kartheiser, Christina Hendricks, John Slattery, Jared Harris and Kiernan Shipka — plus Weiner sat down for a chat with "Actors Studio" host James Lipton, who shared a few tidbits from the upcoming episode in his blog at Bravotv.com.
Also read: 'Mad Men' Season Premiere Song – 'Zou Bisou Bisou' – Out on iTunes (Video)
Lipton, who says he happily watched every episode of the Emmy-winning AMC drama in preparation for the cast interview, says, for instance, that Kartheiser says he and his character, Pete Campbell, are creepy.
Meanwhile, 12-year-old scene stealer Shipka, who plays Don's daughter Sally, waited in a dressing room with her mom while the cast discussed with Lipton the show's more risqué topics, and when she did finally join her castmates on stage — at midnight — she wowed the audience with a performance of her ballet skills, Lipton shares.
Check out a preview of the episode, in which Lipton — speaking of creepy — reveals he counted how many women Don Draper has slept with on "Mad Men":